After premiering at MECSPE 2018, Leister returned for this year's edition. Among the innovations presented, the KRELUS line of infrared heating solutions
The eighteenth edition of MECSPE, the most important Italian trade show dedicated to automation solutions for the manufacturing industry, was held in Parma on March 28th 30th. With over 2,000 exhibiting companies on a floorspace of 120,000 square metres, 12 theme halls and a number of visitors which, having reached 56,000 during the event's three days, increased by almost 25% with respect to last year, MECSPE confirms its role as a reference point for operators interested in getting to know the industry's excellent aspects. Even this year Leister Technologies Italia, the Italian branch of the Swiss multinational company, Leister, leader in the production of industrial heaters and machines for plastic welding, was present at the show; this year's novelties included infrared solutions by KRELUS, a leading company in this segment which last year joined the Leister group.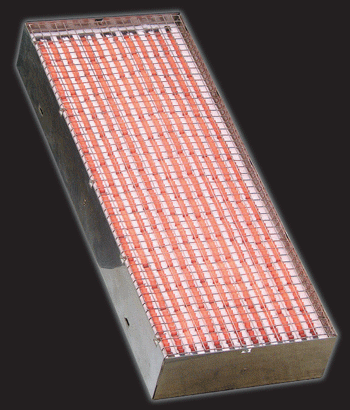 Leister's solutions for process heat may be used in a huge variety of industries, as well as in a vast range of processes and applications; an event such as MECSPE once more proved to be an excellent showcase to introduce the company's innovations to the markets it already serves and a unique opportunity of introducing Leister to segments not yet fully explored.
This edition of MECSPE was also the occasion for the official premiere of the infrared heating systems by KRELUS, a Swiss company which became a part of the Leister world a year ago. Krelus manufactures infrared heating systems characterized by a very high energy efficiency and a very low thermal inertia. They are ideal for the process industry, especially for heating plastic materials or for drying fabric or paper. The system on show at the event was an infrared emission panel with a temperature regulator capable of softening thermoplastic materials (mini g14/25M 1,3 kw- 3,6 kw). Visitors were able to appreciate its potential and to imagine the possibilities of use in their company, considering that the size and power may be customized. The thickness of the lamina may also vary, which determines the power per square metre, so that the lamina and power may be changed without affecting the size. Panels may be regulated with a potentiometer or, like the one on show, with a laser pyrometer, which is very rapid and precise, to optimize consumptions.
Leister also presented the best-known among its products for the process industry: the MISTRAL and HOTWIND independent heaters, which once more aroused the interest and curiosity of visitors.
MISTRAL has been widely known and appreciated for years in many industries for its capability of functioning continuously, for its compact size and for the truly minimum requirements in terms of electric and mechanical supports. Thanks to the brushless engines it provides the advantage of a longer working life with practically no need for maintenance, since there are no brushes.
HOTWIND if the larger version of Mistral and stands out for its capability of generating hot air which is more than double: the power of the heating element reaches 5400 W in the model with the highest performances, setting a standard for hand-held independent heaters.
Visitors also were able to see double flange LE10000 DF and LE 5000 DF heaters (also available in the DFR versions) which, combined with centrifugal blowers, allow to recycle hot air. The recovered air, whose temperature may be as high as 150°C in the standard version and 350°C in the DFR versions, is reused, allowing considerable energy savings, much to the end user's satisfaction. The LHS range of heaters was also present; these may be combined with external blowers and have a power range from 550W to 40 KW. Among the heaters, the LE 10000DF-C model stands out: this double flange heater was designed to comply with the most stringent hygiene standards (standard EHEDG) and is therefore ideal for applications in the food, beverage and pharmaceutical industries.
At the stand, visitors were also able to see some plastic welding solutions: specifically, a laser technology plastic welding solution for thermoplastic materials was on show, the pride of Leister's Swiss parent company. Laser technology for plastic welding is very much in demand by industries with specific requests in terms of volumes, precision and traceability of the process.
Those who were not able to visit the Leister stand at MECSPE may of course obtain information by contacting the company directly: Leister's competent and knowledgeable personnel will be glad to provide suggestions regarding the choice of the most appropriate solution for every requirement and will of course provide timely and effective servicing when necessary.
 BOX: An interview with Paolo Possa, General Manager, Leister Italia, regarding the presence at MECSPE 2019
 For what reasons did you decide to take part in this event?
LEISTER produces technologies for plastic machining; especially, industrial hot air systems, infrared heaters and laser systems for welding thermoplastic materials. These technologies are used in all segments of the manufacturing industry, including of course food&beverage and packaging. MECSPE is the most relevant show for the manufacturing industry, therefore the most appropriate venue in Italy to showcase technologies and innovation. This is the reason behind our presence at MECSPE for the second year running.
Besides, this year Leister celebrates its seventieth anniversary: 70 years are a significant milestone for the company, but even or its clients, who can count on a wealth of application experience and knowledge developed over time.
What innovations did you present at this year's MECSPE?
The main focus at MECSPE 2019 was the presentation of the range of KRELUS infrared heating systems. This Swiss company has a long tradition in the production of solutions which provide the highest reliability, efficiency and quality in infrared technologies. These solutions heat only when necessary (they can be on and off in a matter of a few seconds), where needed (efficiency reaches 90%) and with a long working life. KRELUS has been part of the LEISTER group for just over a year; we were proud to present this very interesting technology at MECSPE for the first time. KRELUS systems allow the utmost precision in heating materials; radiant elements may be associated with pyrometers which record the surface temperature of the material which needs to be heated and with thermo-regulators which deliver or interrupt the power supply to the system according to the difference from the temperature set point.
We also presented a compact unit, or workstation as the colleagues at the Swiss parent company call it, for laser welding of thermoplastic materials. Laser welding is a relatively "young" technology and not yet widely known, but it has considerable strengths due to the possibility of controlling the laser source of energy and of using appropriate optics; it allows a perfect control of the welding parameters, guarantees the highest quality and repeatability, uses very limited amounts of energy and produces highly localised heating which may be easily integrated within complete production lines and systems. For this reason, it finds use in very demanding industries in terms of quality and precision.
How would you judge, all in all, your presence at this show?
For the second year running we were present at this event and the 2019 edition confirmed the positive impression of last year's show: we appreciated the high turnover, the concrete interest shown for our products and solutions. We welcomed many clients, many of whom were also present with their own stand at the event.
I would therefore confirm my evaluation of MECPSE as an excellent showcase for a company such as Leister and its technological solutions which support the manufacturing industry.