Leading packaging converters with any hot runner and mould requirement in more than 30 Countries regularly trust PCTE, which represents a true alternative to OEM
PCTE was founded in 2008 to create a specialized technical service centre for PET preform and caps hot runner moulds. PCTE's dedicated engineering team supports leading packaging converters with any hot runner and mould need in more than 30 countries. PCTE represents a true alternative to OEM.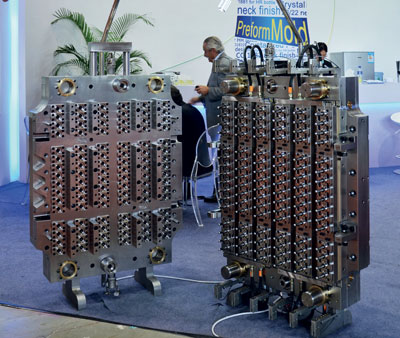 PCTE founders come from a long experience in developing and installing turn-key industrial equipment for the production of rigid plastic packaging (PET preforms, bottles, caps, containers) for the beverage industry. This experience and knowledge of the sector allowed PCTE to be focused and develop dedicated and practical solutions for the beverage industry.
Through the years, PCTE has consistently invested in human resources, training, and equipment to develop the necessary skills and experience to offer additional valuable services and products which are highly requested by the dynamic beverage plastic packaging industry. PCTE constantly searches for innovative solutions to ensure quick lead times, consistent quality, and competitive prices.
Today, PCTE represents a unique partner capable to deliver the following services and products:
Hot runner parts (PET preform and caps)
PCTE is one of the largest suppliers of replacement part for PET preform and caps hot runners. The parts include nozzle tips, nozzle tip insulators, valve pins, heaters, valve bushings, cylinders, thermocouples, nozzle housings, spacers, seals, etc. PCTE keeps in stock a large volume of parts that can be shipped immediately.
Hot runner maintenance and refurbishing (any hot runner)
PCTE helps its customers to keep their hot runners working at maximum efficiency. PCTE's team of specialists provides customized solutions to any hot runner need: melt channel cleaning, preventive maintenance, electric retrofit, manifold leak test, inspection of all components and replacement of worn out parts. Its thermochemical cleaning techniques assure excellent, safe, fast cost-effective, environmentally friendly metal cleaning results.
PET moulds and caps moulds refurbishment
Efficient and quality production requires regular maintenance and scheduled refurbishing programs. PCTE's team is dedicated to specific aspects: on-site preliminary inspection, mould status report and audit, troubleshooting, replacing of worn out components, upgrading of outdated mechanical and electronic system, cleaning and repair of components, training, start-up and process set-up.
PET moulds conversion and light weighting
Through a solid partnership with a leading mould maker PCTE provides full support in designing new preform designs and in converting client's existing moulds with top of the quality and cost-effective changeover kit and parts. Preform development and prototyping activities are also feasible.
Blow moulds and adaptation parts (stretch blowing)
In partnership with a leading mould maker, PCTE provides bottle design services and blow moulds with adaptation parts for any PET blowing machine. Rapid prototyping, bottle mock up and full laboratory testing are also part of the services that PCTE is able to offer.
Spare parts for blowing and filling machines
PCTE supplies high value replacement parts (made in Europe) for first class PET blow moulding machines and filling lines. PCTE possesses a network of specialized suppliers with many years of experience in the PET blowing and filling industry. PCTE's data base includes thousands of OEM codes and part numbers. PCTE has also the capacity to reverse engineer, design and supply any new part.
Energy saving solutions for blowing machines
In partnership with Technoplan Engineering, PCTE manages complex energy saving projects for rotary and linear blowing machines with leading international bottlers. PCTE's solutions are proven to be the most advanced and performing in the market reaching up to 50% saving. PCTE's engineering staff will make the preliminary audit of client's equipment and will calculate the real saving before starting the project. PCTE's commitment on results is absolute, if real savings are below the promise PCTE will take back the system and refund the investment.
High performance maintenance products "food grade" to improve mould and production efficiency
PCTE's products are designed to work as an integrated family of products with the purpose of making the plastic injection moulding process more efficient. This simplified grouping is formulated to eliminate waste and inefficiencies caused by the traditional mould maintenance products. No other company in the market has the products to make the moulding process run as productively as PCTE. PCTE's family of maintenance products includes grease lubricants, rust & corrosion preventatives, cleaners & degreasers, specialty cleaners, spray-on mould releases, purging compound in cream. Each product is formulated to simplify mould maintenance and improve production efficiency.
Mission
PCTE's mission is to supply its customers full support and assistance with the best quality, price and delivery possible ensuring continuing top performance of their equipment.