The Lebanese company Kassatly Chtaura, the first one to bottle Jallab syrup in modern production plants, constantly invests in the purchase of latest generation machinery.
Jallab juice is one of the most well-known drinks in Lebanon, made from carob, fruit syrup, dates, grape molasses and rose water; drinking jallab syrup at the end of a day of fasting becomes an elixir to replenish energy and re-hydrate and, for this reason, it is often consumed during Ramadan.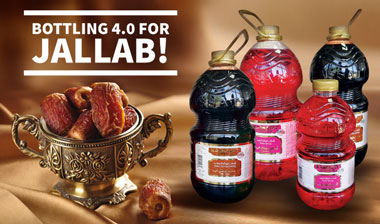 To face the increasing market demand, Kassatly Chataura turned to SMI to automate the bottling and packaging process, previously carried out by hand, by purchasing the ultra-compact ECOBLOC® ERGON 2-9-3 K EV system, to manufacture new PET bottles of 1 L and 2.65 L, which are lighter than those used in the past.
The equipment installed by SMI immediately seemed the most suitable choice for the Lebanese company's needs, as the cutting-edge ECOBLOC® ERGON K EV series stands out for advanced technology, energy savings and, therefore, it is suitable for optimizing the production costs of seasonal and bespoke batches.
The advantages of SMI solution
rotary, high efficiency stretch-blow moulding system equipped with motorised stretch rods, which presents considerable advantages compared to linear blowers;
ultra-compact plant, which clusters the stretch-blow moulding, filling and capping operations of PET bottles in a single block and does not need a rinser or airveyors between the blower and filler;
quick and precise filling and capping processes, thanks to the electronic control systems and the use of high efficiency valves driven by flowmeters;
low energy consumption of the blower, thanks to a preform-heating module equipped with energy-efficient IR lamps and to a blow-moulding module equipped with a dual air recovery system, which allows power cost cutting in connection with high pressure compressed air production;
new frame with a modular design, with no part welding, equipped with very resistant and time lasting safety doors made from reinforced glass;
EASY-CAP gravitational cap orientator, which collects plastic caps from a hopper and only carries those ones being correctly set way up; it is suitable for lots of different plastic caps and is suitable for any layout solution;
Re-design of PET bottles: thanks to a better material distribution on the container body, the veining of the surface and the presence of some geometric elements, it was possible to create a lighter bottle with economical and eco-friendly advantages.
If you want to have further information about Kassatly Chtaura and the advantages offered by ECOBLOC® systems provided by SMI, we invite you to read the last issue of our SMI NOW magazine or to contact our Sales Department.