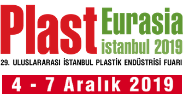 Plast Eurasia Istanbul, the largest plastics industry fair organized annually in Europe, is being prepared firmly for the 29th time to bring together 1.100 prominent exhibitors from over 40 countries and about 60.000 professional visitors from over 100 countries by TUYAP and in cooperation with PAGEV (Turkish Plastics Industry Foundation).
The fair, which offers the opportunity to recognize all innovations in the sector on the same platform, aims to host more than 1,000 purchasing committees through the Republic of Turkey Ministry of Commerce, TUYAP overseas offices and PAGEV.
In the exhibition area of 120,000 square meters the latest technologies about plastics machinery, chemicals, raw materials, machinery auxiliary industry, heat and control equipment, mould, hydraulic and pneumatic, recycling will be showcased for the visitors.
Key Figures from Plast Eurasia Istanbul 2018
Plast Eurasia Istanbul 2018 brought together 1.094 companies and company representatives from 44 countries and 51.684 professional visitors from 103 countries. National pavilions took place from China, India, Iran and Taiwan. In support of Republic of Turkey Ministry of Trade and Tuyap Overseas offices procurement committees from 34 countries were hosted in Tuyap. Thanks to intensive marketing activities abroad, 7.974 international visitors visited the fair with a 17% increase compared to last year.
About Turkish Plastics Industry
Plastics industry, is one of the most important actors of Turkey. Today, the total contribution of 10 million tons, turnover around 35 billion dollars, direct exports approaching 5 billion dollars and annual growth exceeding GNP growth in the last 10 years, the contribution of the plastics industry to the national economy is increasing. The sector has reached 2nd place in Europe and 6th in the world with its production capacity. Source: PAGEV
Save the Date: December 4 – 7, 2019
Expected to make a major contribution to the aims of the sector, Plast Eurasia Istanbul 2019 is available to visiting between December 4 – 6 from 10:00 – 19:00 and from 10:00 – 18:00 on 7th of December.
Plast Eurasia Istanbul 2019, 29th International Istanbul Plastics Industry Fair will be held by Tuyap in cooperation with PAGEV between December 4 – 7, 2019 in Tuyap Fair Convention and Congress Center, Istanbul. The online ticket can be taken from fair's web site:
www.plasteurasia.com