At CHINAPLAS 2020, exhibitors and visitors will join hands to overcome the challenges, and together create innovative solutions for a prosperous future
China is pushing to transform its manufacturing industry to focus on higher quality and domestic market while encouraging foreign investment.
During the ongoing economic uncertainty, leading companies are ready to pave the road for transition and transformation in order to convert challenges to opportunities. As a key industry indicator, the global leading tradeshow CHINAPLAS 2020 will zero in on market trends and buyer needs, provide a high-tech, high-quality and high-value platform of technology innovations, and help companies uncover new opportunities and grow in an ever-changing economic environment.
Under the pressure of environmental protection, how to properly dispose of and reuse plastics has been a question in the spotlight. Multiple cities in China are implementing waste sorting. The European Union, Sweden, Canada, Peru, and other countries and regions have proposed plans to ban single-use plastic products. China escalated its waste ban to prohibit the import of all industrial waste plastics at the end of 2018. India, Thailand, Malaysia, and other countries are also following the suit to ban imported solid plastic waste.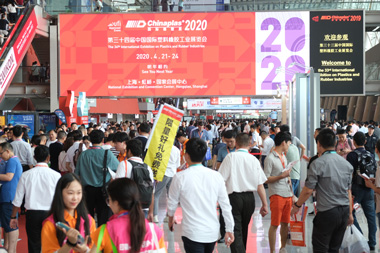 To address these issues, plastics manufacturers need to continue to promote reuse and recycling, plan out full product lifecycle to include recycling in advance, and provide environmentally friendly and recyclable innovative solutions such as biodegradable plastics.
The emergence of unilateralism, trade protectionism, and anti-globalization trends and the escalation of related actions have also adversely impacted on the global economy and the plastics and rubber industries. The key to transformation lies in innovation. Companies can benefit from leveraging technological innovation, enhancing independent innovative capability, increasing product value and market competitiveness, adjusting strategy and deployment, and actively exploring domestic market and emerging markets, thereby strengthening their risk resistance capacity.
Ada Leung, General Manager of Adsale Exhibition Services Ltd., the show organizer of CHINAPLAS, remarks, "The current market environment is full of challenges, but it is also a great time for strong companies to rise against the trend. CHINAPLAS 2020 continues to show strong booth bookings as seen in previous years, indicating the confidence of plastics and rubber suppliers in creating endless innovation and achieving success in the future."
First introduced in 1983, CHINAPLAS is currently Asia's leading plastics and rubber trade fair.
CHINAPLAS will return to the National Exhibition and Convention Center, in Hongqiao, Shanghai, from 21 to 24 April 2020. This iconic industry event is expected to present 340,000 square meters of exhibition space, bring together 3,900+ global exhibitors and 180,000+ visitors, to join hands to overcome the challenges, and together create a prosperous future.