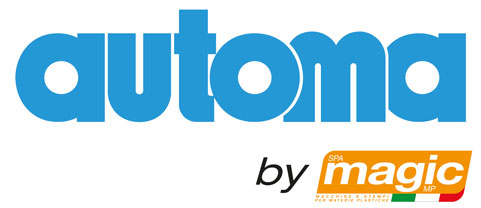 Automa offers excellent service, improved components and implemented solutions to meet any blow moulding requirement
Automa.
Who does not recognize this name? Who has never heard of it or has never met it at a trade fair?
Almost 50 years of history in Extrusion Blow Moulding; over 3500 produced machines, most of them still in operation.
Well, Automa is back.
After the period of time that led to its liquidation, it has returned. Thanks to the foresight of Ferruccio Giacobbe (Magic MP) who avoided the prestigious Italian brand ending up in foreign hands, here it is again, on the scene of the Extrusion Blow Moulding industry.
Automa by Magic has been established in October 2018, thanks to a concerted action by some professionals of the sector and Magic MP itself. It continues to provide for and support Automa customers, and others, with spare parts, technical service, new PLC systems with its own software, UNIKO®, which vertically fits into any Extrusion Blow Moulding machine, both continuous and accumulation ones.
Not restricted to the above, Automa by Magic is also born to build new hydraulic machines, based on Automa and Magic projects, revisited in a modern way, with improved components and implemented solutions.
The equipment range includes the traditional shuttle machines, single and double station, and models with accumulator heads for the automotive and technical products  industries.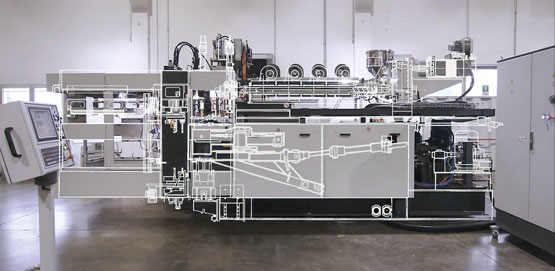 For those customers who are strongly faithful to a technical tradition which makes them independent; for those destinations where the stability of the electricity line can be an enemy of all new full electric technologies; for these and other cases, the demand for hydraulic solutions is still active.
Automa by Magic, in its new building in Imola (Bologna, Italy), manufactures new EBM machines using a network of highly qualified and experienced suppliers. The machines are manufactured, tested and then sent to their destinations where skilled technicians carry out the commissionings.
Also existing machines complete overhaulings are carried out in-house. Automa By Magic technical department intervenes to plan and develop all necessary conversions and updates agreed with end-users. Special attention is dedicated to all those technical improvements aimed to extend machines life and increase the active and passive safety, in case it is not sufficiently adequated or totally absent. This, besides the equipment modernization, increases machines efficiency, production and  operators safety.
Automa by Magic has an automated storage/retrieval  system with various types of spare parts for Automa and Blow Star machines. All spare parts are produced according to original drawings, adopting the same technologies and materials as in the past and when possible upgrading them with last generation components and long lasting solutions. Many parts are technically updated to improve their performances and are produced with CNC machines, to obtain perfectly and easily interchangeable items, even years later. This guarantees the duration and quality of the spare part itself.
Each customer will find in Automa by Magic a partner for any need he might have.
Spare parts, optionals, new molds, accessories and/or special solutions will be controlled and integrated in any existing machine, making it as new.
Automa by Magic provides customers with more than thirty years of experience in the field as its staff is made up of technicians and experts who have gained their valuable experience with Automa and other manufacturers, allowing Automa by Magic to assist customers in general on various brands in the Extrusion Blow Moulding market.
The partnership of two brands that have technically and technologically influenced the Extrusion Blow Moulding worldwide market, are joined today in Automa by Magic. All this can only be a new and great benefit for the market and for customers who still have their machines running and can continue to use them for many more years to come.