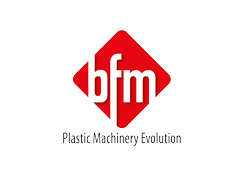 BFM has been in the plastic machinery sector for more than forty five years and acknowledged as one of the leading companies in the construction of automatic winders and flexo printing machines
BFM has been present in the field of plastic machinery for over forty five years and today is acknowledged as one of the leading companies in the "Made in Italy" for the construction of "Take off & Automatic Winders" to suit extrusion blown film lines (BFM is partner of Luigi Bandera Spa), and "Flexo printing machines", Central Drum up to 10 colors and Stack Type 2-4-6-8 colours.
At the next Drupa 2021, which will be held in Düsseldorf in April, BFM will be pleased to propose a novelty in its range of stack type flexographic printing machines: Sirio 6/8 Colour S Plus.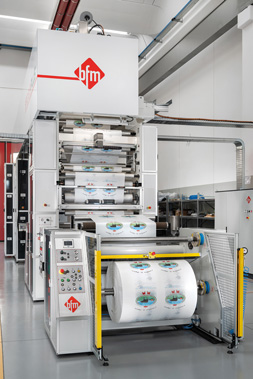 Sirio Model Printer
It is a 6/8 colour "stack type" machine, designed for printing on various plastic materials for the packaging market but also suitable for paper materials, in line with the extruder or reel to reel. The printing units are equipped with a closed chamber doctor blade with the possibility of self-alignment, it is able to print from a minimum repeat length of 350 mm up to a maximum of 1200 mm, with printing widths up to 1800 mm.
The line is composed of an unwinder with different solutions: fixed, shaft-less or revolver, 6/8 colours printing group with motorized counter-printing axis, electric grinding, and pneumatic inking. The drying group is composed of an intercolour system and a drying box with electric or by gas heating and a winder normally different winding possibilities. The maximum production speed is 250 meters per minute.
The automation platform of this machine has been designed using the proven application experience of Bosch Rexoth, industry leader in the automation of printing and converting machines
This printer is the "right compromise" between costs and performance: in this case the use of IndraDyn MBT torque motors, which move the colour group composed of counter-roller-cliché-anilox, guarantees great dimensional compactness and the right printing precision.
The use of the IndraDrive M digital series guarantees constant position synchronism between the different printing elements, with consequent register maintenance both at high speeds and during acceleration and deceleration. Initial registration is very quick and can also be done when the machine is stopped, significantly reducing energy waste and material waste.
Today, to complete the Sirio stack lines, it is born the "Sirio S-Plus", even more flexible through the adoption of a full electronic positioning system, each colour group can be moved longitudinally in a completely independent way thanks to the adoption of Indradrive Cs servo axes and MSM motors equipped with absolute multiturn encoder: the results are a most accurate set point, the management of storable recipes, the reduced reconfiguration times.
Among the novelties of S-Plus the new graphic interface, designed on 21", simple and intuitive but at the same time complete for the management of all machine functions.
Let's meet in Hall 16 – Booth B 74! BFM will show you all its improvements.