Color Service systems guarantee high dosing accuracy, batch traceability and modularity of storage stations satisfying customer's permanent and future need
Color Service is an Italian leading company in the production of automatic dosing systems of small chemicals in powder and liquid form for compound and masterbatch preparation.
Its technology is developed to solve problems associated with the manual weighing of pigments or additives and is designed with the aim to abandon traditional production methods that inevitably would not allow to get a safe, fast and precise dosing.
The system, available also as option in ATEX version, guarantees high dosing accuracy, batch traceability and modularity of storage stations satisfying customer's permanent and future need.
Customer's products (pigments, additives, compounds, any powders) are transferred and stored inside dedicated silos of various capacity through high performance vacuum that guarantee fast loading with low air consumption and filtering surface.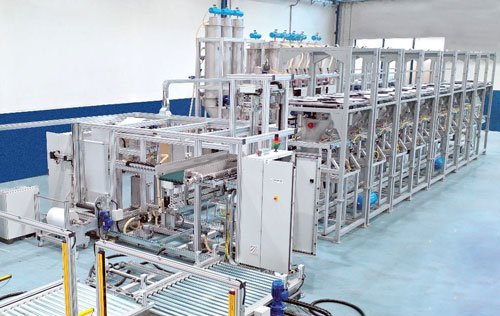 During the dosing, a multi-scale conveyor completely aspirated through a dedicated dust extraction system allows the precise weighing of recipes that can be dosed directly into a bucket or in identified bags created in a completely automatic way. In particular, the machine moves the container under all the dispensing points, receiving the components according to the recipe to produce; if the container is under the right storage station, the dosing cycle is achieved. In addition, to ensure product's traceability, an identification label is printed and applied automatically in the dosed bags. This is a fundamental characteristic that allows each individual recipe to be traced.
The system is able to guarantee a high production speed that makes the production process repetitive 24/7 and reliable, allowing the creation of mixtures of additives with the same specifications and a "zero defects" production. Thus limiting the human intervention and reducing to zero the risk factors.
This innovation marks a significant progress in the optimization and automation of systems and technologies, as well as representing a new and revolutionary product for the market.
Environmental sustainability is a deeply-felt issue in this sector, often dealing with volatile and dusty material. For this reason, Color Service has invested heavily in research and development and is now able to guarantee a completely closed and aspirated system with absolute control of the dust emitted during the weighing and the suction of the dispersed additives that are recovered and reintroduced into the production cycle with obvious ecological and economic benefits.
This system takes particular care to the protection of the operator from the inhalation of harmful dust and from the circulation of the same in the environment. It is suitable to meet the current worldwide regulations in terms of environmental safety.
With more than 2500 systems installed worldwide, the company has consolidated its position satisfying customer's need to automate the raw material dosing in several countries: America, Europe, Africa and Asia.
Color Service relies on an R&D Department focusing on the constant upgrading of existing products as well as on the creation of new ones designed to improve the productivity, automatizing, simplifying and minimizing the human intervention.
The systems are user-friendly and software is intuitive and easy to use, allowing a quick and easy understanding.
Color Service has certainly improved technical assistance by developing remote control software and introduced remote installation procedures to ensure production continuity for its customers.
Thanks to its system's automation, Color Service guarantees its customers more production in less time, more coordination, reduction of the margins of error in all the processing phases, more energy saving, more safety for the operators and maximum responsiveness to unexpected events that can occur on each production line.