MENA's plastics products market to reach US$ 54.6 billion by 2025
Under the patronage of H.E. Nevine Gameaa, Minister of Trade and Industry, PLASTEX 2022 to re-connect buyers with leading international and local manufacturers and distributors over four days
The Egyptian Government forecasts economic growth of five per cent over the next fiscal year, and according to Egypt's Chemicals and Fertilizers Export Council (CEC), the country has witnessed around 10% growth in plastics demand in the past few years.
Currently, Egypt majorly depends on imports to meet the demand for plastics. However, the Egyptian government is focusing primarily on increasing the domestic production of plastic and inviting foreign investors. In 2019, Egypt's plastic production capacity was worth USD 198 billion and around 7.2 billion worth of investments took place.
dmg events and ACG–ITF are pleased to announce the in-person edition of PLASTEX, where the industry will gather to accelerate investment and trade across Egypt and the wider Middle East and North African (MENA) region. Held under the patronage of the Ministry of Trade and Industry, Arab Republic of Egypt, PLASTEX will run from 9 – 12 January 2022 at the Egypt International Exhibition Center (EIEC).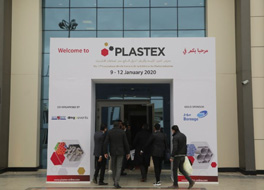 The 18th edition is set to elevate Egypt's global standing in plastics by bringing together global multi-national organisations including Borouge, Tasnee, Astra Polymers, Avient Corporation, Haitian Plastics Machinery Ltd, Egyptian Company for Plastic Industry Elsewedy, GAP Polymers, Saudi Top Plastic Factory, TOMRA, Starlinger, Lohia Corp., Star Plastic Groups and many more all showcasing their latest innovative products, technologies and services.
PLASTEX set to deliver international investment & realise policy change
PLASTEX will address the opportunities for the MENA region's plastics industry and will attract industry experts looking to identify new business and investment opportunities.
Citing a recent report by Mordor Intelligence, the total plastic product market in MENA is worth US$42.8bn and is projected to grow to US$54.6bn by 2025. MENA's biggest market Egypt stood at US$6.9bn in 2019 representing 17% of the market and is estimated to register a CAGR of ~4.76% by 2025.
Borouge, a leading petrochemical company that provides innovative, value creating plastics solutions, has partnered with PLASTEX for the third consecutive edition as a Gold Sponsor. Speaking ahead of the event, Khalfan Al Muhairi, Senior Vice President, Middle East, Africa and Exports at Borouge, said; "Our participation at PLASTEX 2022 provides us with a platform to showcase our newly-launched, cutting-edge solutions that bring value to our value chain partners, whilst demonstrating our commitment to growth, innovation, and excellence. During the event, we will reveal more details about our new sustainable grades that serve the packaging and infrastructure sectors and shed light on our growing innovation capabilities.
PLASTEX continues to be the ideal platform to meet with industry leaders from the Middle East and beyond and gives us the opportunity to share our journey to becoming a pioneer that creates innovative, value-creating sustainable solutions which are helping to shape the industry of tomorrow."
Welcoming more than 22,000 attendees and 300 local and international exhibitors, PLASTEX points to the future of the industry with dedicated zones focused on the 4th Industrial Revolution and Recycling.
"Egypt produces at least 970,000 tonnes of plastic waste annually and is the seventh-largest exporter. Plastic recycling is still in the nascent stages in the Middle East, where the recycling rate is 10%. To help tackle this, we have created the Plastics Recycling Zone for our 2022 edition – a launch platform providing opportunities to new entrepreneurs and established companies to share and discuss their recycling methods and technologies" said Salman Abou Hamzeh, Vice President – Energy for dmg events.
For more information, visit: www.plastex-online.com
The live and in-person event will be held in adherence with dmg events All Secure, an enhanced set of health and safety standards in conjunction with advice from Public Health Authorities and venues to ensure our events are operating in accordance with local rules as well as meeting international standards. The All Secure Safety Standards are made up of 4 key cornerstones – Physical Distancing, Cleaning & Hygiene, Protect & Detect, and Communications.
About co-organisers
dmg events
dmg events is a leading organiser of face-to-face events and a publisher of trade magazines. We aim to keep businesses informed and connect them with relevant communities to create vibrant marketplaces and to accelerate their business through face-to-face events.
dmg events organises more than 80 events across 25 countries, attracting over 425,000 attendees and delegates every year. The company's portfolio of products includes many industry-leading events in the energy, construction, hospitality & design, coatings and transportation sectors. ADIPEC, The Big 5, Gastech, EGYPS, The Hotel Show and INDEX are the company's flagship events. For more information visit www.dmgevents.com.
Founded in 1989, the company is headquartered in Dubai, UAE, and is a wholly-owned subsidiary of the Daily Mail and General Trust plc (DMGT, www.dmgt.co.uk), one of the largest media companies in the United Kingdom.
ACG-ITF
With 30+ years of experience to their name, ACG-ITF is the pioneering trade fair organiser in North Africa and Egypt, with a portfolio history of flagship events in the Egyptian exhibition industry covering several sectors with utmost success in the fields of automotive, oil & gas, building & construction, industrial engineering machinery, and real estate, among others.
ACG-ITF delivers world-class annual trade shows bringing together thousands of exhibitors, investors, delegates, government representatives, and experts from MENA, Africa, East Asia, Europe, and North America. The group operates three divisions; The International Partnerships Division; for shows co-organised with international partners; The Local Partnerships Division, for shows co-organised with local partners and ACG-ITF's Shows Division for events or shows held exclusively by the group.
About DMGT
DMGT manages a portfolio of companies that provide businesses and consumers with compelling information, analysis, insight, events, news and entertainment.  The Group takes a long-term approach to investment and has market-leading positions in consumer media, insurance risk, property information, education technology, energy information and events & exhibitions.  In total, DMGT generates revenues of around £1bn.