Every Tecmes machine is designed to grant excellent performances and to be environment-friendly
Tecmes was founded in 1984 by a team of mechanical automation enthusiasts. The first realizations were developed on the basis of a rotating device equipped with an oscillating turret. This configuration was successful for fast and accurate assembly processes. 
At that time, Tecmes had a revolutionary intuition: mechanical automation applied to production; it became a concrete possibility for small- and medium-sized companies.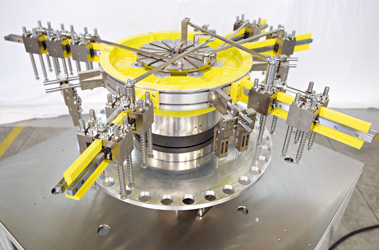 The vision of tomorrow, talking about automation, must take into consideration the impact on the environment; therefore, Tecmes machines are designed to operate with low energy consumption, reducing production costs in terms of electricity and compressed air. Less costs in production, less emissions for the world. 
As history teaches us, even at this moment, Tecmes is working to make automation accessible to small- and medium-sized companies, designing machines more compact, economical and multifunctional, and more flexible. 
Every Tecmes machine is a story this company loves to write every day together with its customers.