Sustainable packaging is on the rise and Plastiblow help reduce our impact on the environment by improving recyclability
Thanks to the forced confinement and the fear of the virus, during these two years of pandemic the consumption of cleaning and disinfection products both in the home and in public access areas has recorded growth rates of around 30%.
The sudden need to sanitize hands and various surfaces against the virus led to a big demand in blow moulded containers for cleaning & disinfecting products. This demand has been a constant during the past two years and Plastiblow did its part to supply equipment for this purpose.
The market of detergents and household care products requires machines with particularly rapid production cycles but without neglecting the aesthetics and design of the container and its robustness; fundamental aspects for the attractiveness of selling to the consumer.
Large numbers of pieces produced correspond to a rather low unit cost, even in the presence of containers or bottles with multiple layers and with machines that use In Mould labelling.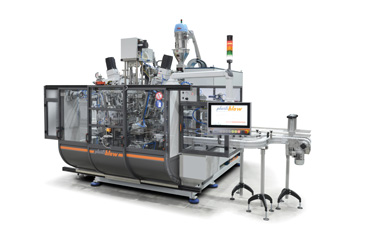 Shapes, material, surface finishes: these are all conditions that must meet precise design requirements. Regardless of the content, the bottles produced must be compatible with the liquid they are going to contain, preserve the quality of the product, prevent the product from being dispersed during transport, have a beautiful design or important thicknesses, in the event that they contain dangerous substances containing acids, dyes, bleaches.
Packaging and sustainability, the evolution towards more recyclable packaging
Consumer goods companies are looking to reduce the environmental impact of their products, for example by making more use of recycled plastics or by creating easily removable labels, which make it easier to recycle packages.
If once an elaborate and heavy packaging was synonymous with quality, today consumers demand that products be shipped in sustainable, light and recyclable formats. Sustainable packaging is in fact on the rise and manufacturers are cutting down on packaging, improving its recyclability.
The move to lightweight packaging has also led some companies to replace glass containers with plastic ones, which are less heavy. In the packaging sector, many are convinced that plastic has contributed to sustainability, helping to preserve products from deterioration and being at the same time also light and flexible. And it is precisely on these aspects that it is crucial to work.
In the cleaning sector, therefore, plastic packaging continues to dominate, whether rigid or flexible.
In 2020, plastic packaging represented 94% of the packaging of products for cleaning and maintenance of environments, and there is a constant increase in biodegradable or post-consumer polymer packaging. 
Among the plastic packaging destined for this sector, plastic bottles dominate, representing 66.5% of the total.
Plastiblow, as a manufacturer of extrusion blow moulding machines, has for many years considered itself at the forefront of experimentation and technological innovation proposing electrically operated blow moulding machines that allow:
– repeatability of movements (in the absence of oil, there are no differences in behaviour with varying operating temperatures)
– faster cycles and regular and precise movements, therefore increased productivity and reduced production waste
– energy consumption reduced to a minimum, therefore lower operating costs
– lower maintenance costs
– reduction of environmental impact.
Thanks to the application of particular technologies and the know-how acquired in decades of activity, Plastiblow has created many blowing machines for this important industrial sector, where more and more often lighter co-extruded multilayer containers are required, thanks to an ad hoc design, and eco-sustainable because they use an important percentage of recycled plastic polymers.
Among Plastiblow's recent projects there are, for example, two blow moulding machines supplied for the production of trigger spray bottles, in various sizes, and in 2 layers with the use of post-consumer material. They were equipped with 2 moulds, each with 6 cavities, that allow an hourly production of over 6000 bottles/hour.
Several other projects involved bleach bottles, for example machines for the production of 2-liter bottles in 6+6 cavities and machines for the production of 4-liter bottles in 5+5 cavities or 4+4 cavities, mono-layer and co-extruded multi-layer.
Various other projects involved the production of bottles for cleaning and maintenance of the house, such as products to remove limescale from the toilet that require bottles with inclined neck to make it possible to reach the most difficult points.