More than 35 years of innovation, development of ideas and proposals for state-of-the-art solutions have defined BD Plast's approach to the market
Filtration systems are crucial components for extrusion plants and for polymer recycling, which, in their turn, affect the quality of the final product and the efficiency of the whole production process. BD Plast supplies OEM's as well as end users worldwide with a wide range of products composed by: manual and hydraulic screen changers, downstream extrusion components (adapters, elbows, melt pipes, static mixers, diverter valves, strand dies), continuous flow and fully automatic back-flushing screen changers and accessories (hydraulic power units, support carts and platforms, hydraulic die changers).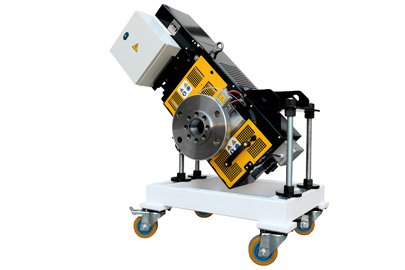 Thanks to these screen changers' versions, BD Plast is able to supply specific solutions in order to process every kind of polymer while maximizing the production and minimizing material's waste. In 1986, in Bondeno, a small town in Ferrara's province, Bruno Boicelli, his son Dante and his daughter-in-law Clarissa Frazzoli founded BD Plast. Since the beginning, the company has been involved in producing and selling screen changers for polymer extrusion lines. This allowed the company to consolidate its position in Italy through their technology. 
More than 35 years of innovation, development of ideas and proposals for state-of-the-art solutions have defined BD Plast's approach to the market, with an attitude for innovation of their systems and oriented at responding to the various changes in the production context. The Emilian company now employs about 50 highly trained and qualified employees, capable of contributing to the growth of the company through the design and construction of new lines of machines and products such as adapters, elbows, and melt pipes, consolidating important international partnerships and enhancing the service, intended as a real added value for maximum customer satisfaction. 
"Ours is a reality that does not work through upheavals, but follows a logic of continuous improvement and, in this sense, we are also working on traditional systems to make them economically better and safer. We have a complete line of reliable and very high-quality screen changers, guaranteed by the internal mastery of the entire process, from the design of the machine to the assembly at the customer – said Dante Boicelli, CEO of BD Plast – We build about 1400 systems at year, and this also requires us an extraordinary effort for our technical department, which is concentrated in making products of different sizes and highly customized." 
"We have also grown a lot in terms of IT and customer services, using new telematic tools to reach companies and End Users in difficult moments, such as the one due to Covid-19 pandemic – added Dante Boicelli – the engineer Stefano Gallieni, our new general manager, is favoring the generational transition by guiding the company towards a medium-industrial dimension and offering, to those who choose our expertise, a high-level service and consultancy, in order to analyze and solve any type of problem that arises within the production process, in a rather complex and evolved market, such as today's."
BD Plast has reached the third generation of management and still employs the founding family. Ms. Frazzoli always led the administrative area with the utmost attention and, since 1988, has started the IT evolution of the company, bringing it today to the daily use of software and IT technologies best positioned in the Magic Quadrant. Dino Boicelli, Dante's and Clarissa's son, after a degree and a master's degree in business administration attended at Università Cattolica in Milan, joined the company and is dealing with marketing and commercial areas. Current BD Plast's leading product is the self-cleaning filtration system Clean Changer©. 
Many Clean Changers have been in operation for about 2 years by various Italian manufacturers with full customers satisfaction. One of the strengths of this system consists in the ability to carry out the self-cleaning cycle with particularly low back pressures. Added to this is the fact that it is a continuous flow equipment in which, unlike what happens with other types of filtration equipment, the replacement of the filtering elements takes place without stopping the extruder, thus avoiding waste of time and waste of materials. Furthermore, in the Clean Changer©, the replacement of the filtering nets takes place with the automatic ejection of the breaker plates, allowing easy replacement of the filter element and further saving of time. The highest back flushing efficiency allows up to 300 cleaning cycles before the next screen replacement.