Tecno System' success is the result of the wonderful marriage between human values, challenging ideas and professionalism of the people who make up the company: a long journey, begun in the '90s in the countryside of the northern Italy and achieving today a global perspective, always focusing on customer satisfaction and top-quality production
Tecno System has grown very fast over the years, arriving to formalize in 2014 and 2018 a corporate acquisition and a corporate merger with two Italian historical brands like TPV Mechanical Division and B-TEC and becoming so one of the leading companies in Italy in the development of complete extrusion lines for thermoplastic profile and pipes. These strategic acquisitions, in fact, consolidated over 60 years of experience in the field of extrusion technologies for thermoplastic materials as well as in the manufacturing of extrusion tooling and allowed Tecno System to offer customized turnkey systems like extrusion lines complete with molds and equipped with special downstream machineries to face any customer's need.
100% Made in Italy
The company offers its customers specific and consolidated know-how and constant R&D efforts combined with the professionalism of high-skilled team, in order to give clients the smartest solutions possible. The main focus is to grant the customer satisfaction, which is the linchpin of Tecno System's mission. To do so, all the products are completely designed, manufactured and tested in the historic plant in Consandolo (Ferrara, Italy) controlling each stage of the supply chain and applying very stringent quality standards to ensure the full compliance of the product with European regulation.
Global approach
During these years, Tecno System has grown not just for what concern organizational point of view but also in terms of sales volume, revolutionising its sales strategy and opening even more into the global market. 
In the last few years, indeed, the company has invested even more energies on international markets and developped a wide and structured sales network in order to simplify customers needs. The result of these massive efforts is that today Tecno System exports its products in more than 40 countries all around the world thanks to the daily support of 6 representative offices which promptly service customers respectively in Brazil, Spain, France, Russia and other CIS countries, Turkey and finally India.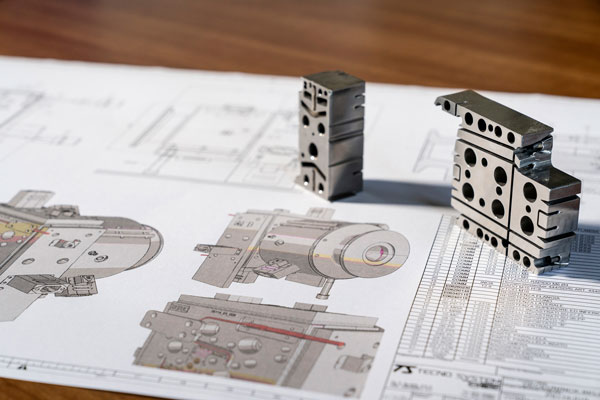 Tecno System products
By opting for Tecno System's extrusion lines clients can satisfy different capacity needs (5-350 kg/h) as well as a wide range of purposes in the field of extrusion of profiles as pipes, technical profiles, profiles for the building industry, medical tubes, thermal break profiles with fiberglass, etc., and made of a great variety of thermoplastic materials such as plasticized PVC, rigid PVC, PP, PC, HDPE, LDPE, PP, PMMA, etc. The lines are also characterized by low energy consumption of the calibrating units and innovative solutions like new cutting units with radial hot blades. 
Particular attention is paid to the main business of PVC profile, with the very solid Tecno System's experience in designing and constructing of high quality extrusion dyes and calibrators for the extrusion of PVC window frames, roller shutters, panels, cable management ducts, gutters and rainwater pipes, etc. 
Another strength is the construction of dedicated single or multi layer extrusion lines for medical pipes made with medical grade raw materials used in clean room environments (soft PVC, TPU, PEBAX, ect.). Tecno System's medical tubing extrusion lines are becoming very popular among the customers in Italy and abroad for the achievable high-speed extrusion standards which are the results of the most recent achievements in automation and mechanics, combined with a close cooperation with raw material producers in order to improve and refine screw geometry and design. In addition, there is the possibility to have 4.0 ready extrusion lines for multilayer pipe complete with OD/wall thickness control, inkjet printer, and a final semi-automatic single our double coiler in order to facilitate and optimize any step of the production process. 
It must be said then that the wide range of Tecno System's products does not end with extrusion lines and tooling systems: besides these main solutions, in facts, the company can also provide in-the-house technologies for mechanical processing of profile: for example, the great experience in the field of punching unit systems allowed Tecno System to develop integrated and customer tailored solutions for their extrusion lines, which became strategic solutions in the company's market policy.
Industry 4.0
The company believes in technological innovation as one of the most important critical success factor to be competitive in the market. On this regard Tecno System is recently investing many efforts and resources in the digitalization and hyperconnectivity of its extrusion lines, adapting extruders and the other machineries to the industry 4.0 prerequisites. Obviously, this high-advanced technology includes many different advantages for the customer who can rely, for example, on continuous marking process of the tubes before becoming spirals, a fully automated cutting system and ejection system with any operator during the process, and many other tips through which it's possible to consistently reduce the waste and costs. This means optimizing processes and maximization of the efficiency for the customer.
Recent investments 
Another important strength of Tecno System is the continuous adoption of technologies that allow it to face promptly any customer needs, increasing at the same time quality of the products and flexibility within the supply chain. On this regard, many different investments have been accomplished in 2022. The last year, in fact, the company acquired two 4.0 ready CNC machines and a new laser welding machine which increase exponentially organizational interoperability as well as the output accuracy throughout operations, but they are not the only ones: today the company can exploit a new 2D scanner, taking advantage of many opportunities in the testing phase of customer tooling. The company can now measure and digitize any section of the extruded profiles, with the possibility to optimize in real-time and with extraordinary levels of accuracy the final product directly in the testing phase, according to the technical specifications requested by customers. This means much higher process efficiency, less waste of time and costs due to testing activities for the clients and last but not least easy and fast communication with customers around the world due to "digitized real profiles".
Events
To conclude, Tecno System will be present at the PLAST 2023 exhibition, in Milan from 5 to 8 September, and it will be ready to welcome its visitors at Hall 13, stand C 132.