FANUC M20iD/25 robot displays unprecedented agility and speed of movement thanks to the slim design of its arm and the optimization of the drive train
FANUC introduced a new robot in its already extensive range of industrial and collaborative anthropomorphic arms, which offers over 100 models. M20iD/25 is a robot dedicated to handling and palletizing, and represents a step forward in terms of payload, work space and efficiency (thanks to the intelligent control by R30iB Plus, characterized by 1GB of DRAMs and CPU faster) compared to its predecessors in the M20 series.
Offering a payload capacity of 25 kg and 6 axes of movement, the robot shows incredible agility and is able to reach the proximity of its base during movement, increasing the effective working area. The new transmission technology allows to achieve significantly higher axis speeds, with an exceptional repeatability of ±0.02 mm. The improved speed performance allows the M20iD/25 to be even more reliable, productive and therefore profitable.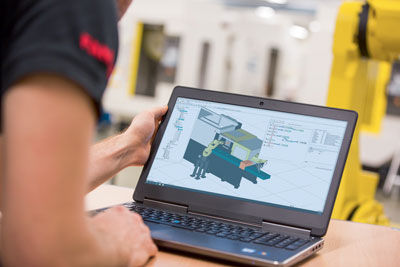 With its 1,535 mm reach, this robot proves to be perfect for any handling task up to 25 kg and machine tending. The IP67 protection and its curved J2 arm prevent the deposit and infiltration of dust and splashes, making it suitable for use even in wet, dirty and demanding environments and applications such as deburring in the automotive industry.
The iRVision Plug and Play recognition system integrated into the R-30iB Plus controller enables part recognition in 2D or 3D mode, and locates parts regardless of size, shape or position. It can read barcodes, sort elements by colour and support flexible part feeding, high-speed tracking (iRPickTool) and picking from containers or trays, even creating instant 3D maps (with 3D Area Sensor).
A robot handguide function is also provided: the operator can teach the robot complete trajectories or specific parts of them by simply rotating the handle mounted on the robot clamp and pressing a button. Maximum safety guaranteed by a sensor that detects the presence of operators and prevents the robot from resuming movement until the safety area is clear. Roboguide software make it simple to carry out offline simulations and quickly and easily create realistic programs equal to those used in production, reducing commissioning and making integration easier.
Mounting is allowed on floor, ceiling and angle. The M20iD/25 robot is then equipped with ZDT Zero Downtime, the FANUC Artificial Intelligence software that enables remote monitoring of robot efficiency and predictive maintenance.