Gimat bulk material handling systems are remarkably well-known in the plastics, chemical, food and pharmaceutical industries
A uger fillers (pic. 1)
The semiautomatic auger fillers are designed for volumetric or gravimetric dosing not free flowing and sticky powders from 150 to 15.000 grams. The machine consists of a 30-50 l hopper in stainless steel for product contact parts with special agitator assuring bridge breaking and mixing effect, which can be integrated with form/fill/seal for automatic operation. Auger drive and agitator drive are completely independent. Hopper can be equipped by automatic filling with GIMAT powder conveyors.
Bulk bag unloading systems (pic. 2)
Gimat have extensive experience in handling powders for both the Food and Chemical industries.  As clients have become more aware of the risks and responsibilities associated with the ATEX requirements they have responded with a new cost-effective solution. After considerable investment Gimat now offer an effective solution for ATEX zones G2 and D22 or lower.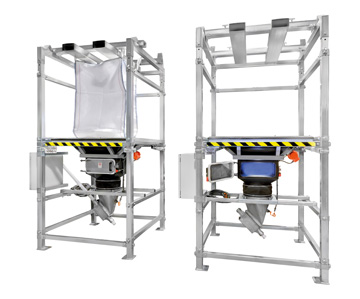 The basic machine effectively deals with free-flowing powders, for less flowing materials Gimat offer either vibratory or pneumatic massage solutions to ensure reliable flow and therefore continuous manufacture process.
Partial discharge of bags is allowed thanks to another pneumatic (and hence safe) device to close the bag spout. 
Main additional features are: Patented discharge hopper with powder flow improvements; Hopper made of food grade (FDA approved) black antistatic polymer, no spark risk, guarantee of easy cleaning, good flowing of the product and strength against corrosion. Hopper can be also made of stainless steel 304 or 316 on request.
Support frame with 4 off height adjustable legs and crossbars assembled by special bolted adjustable community design connections.
Unloading and conveying of the bulk bag content happens thanks to effective Gimat flexible spiral conveyors or shaftless screw conveyors depending on the output required. These units are proven in ATEX environments, for more details contact Gimat.