Higher performance and productivity of the pipe extrusion plants thanks to Industry 4.0 developments.
From October 16th to 23rd, in hall 16 – booth D-05
ipe manufacturers are more and more oriented towards cost efficiency and energy saving, but always aiming at the best performance and output rate achievable for their pipe extrusion lines. Renowed as a top producer of machinery for the production of plastic pipes, with over than 40 years of experience in this sector, Tecnomatic will exhibit innovative solutions for pipe extrusion at the next K-show, to assist customers not only by supplying extruders and die-heads, but also by providing complete production systems for a business which is getting increasingly demanding.
At K-Show 2019, in Hall 16 – Booth D 05, Tecnomatic will exhibit one extruder and two die-heads, part of its innovative range of products and will introduce the customers to the current industrial revolution, known as Industry 4.0.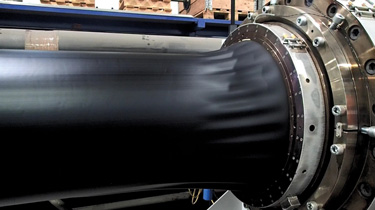 Focus on Industry 4.0
An innovation which will change the future and it's already changing the present is definitely "Industry 4.0", which is becoming increasingly important and is involving more and more factories. Industry 4.0 plays a strategic role in coordinating, synchronizing and analyzing the machinery's process, as well as supplying very important data to the human operators. Therefore the production process wil be more accurate and will make the human operator's work easier.
TECNOMATIC at K-Show will introduce customers to its system aimed at supporting the new digital industrial revolution, providing to the plastic pipes manufacturers a complete and integrated portfolio of products, solutions, industrial software and automation technologies.
The system provides a simple user-friendly program for the networking of extrusion pipes  lines. Via the machine's EPC (Extrusion Process Control) system, several machines and peripherals are connected and linked together to be operated via a uniform user interface, which enables interaction between the individual appliances. In this way, the entire manufacturing process, including material feeding, temperature control and syncronisation is coordinated and tracked. Another important point is having all parameters centrally recorded and monitored. The system allows, not only to carry out energy monitoring, but to convert numbers and data into valuable information on the processes within the line. This enables optimal analysis of a line's performance.
From the relevant key performance indicators (KPI) for shift supervisors up to the clear presentation of the line performance for the management.
Perfectly in line with the concept of  "smart factory" of the Industry 4.0, all data, including preventive maintenance and service parameters or alarms can be monitored via internet or intranet, to Pc, servers or to mobile devices. The investment on Industry 4.0 brings about many advantages, such as:
– Higher flexibility and efficiency of the extrusion line through a reduced set-up period, reducing errors and downtime
– Possibility of big data collection and analysis to optimize the processes.
The above are just some of the many pros of having extrusion plants, which are operating with Industry 4.0 technology and therefore TECNOMATIC is focusing and investing on it. This will enable TECNOMATIC to supply its clients with the most efficient extrusion lines available in the market.
Extruders & die-heads
Further to an extruder of the ZEPHYR series Tecnomatic will also display die-heads of the VENUS series, to produce PP-R pipes with fiberglass up to 250 mm, and of the VENUS COAT series for the coating of PE or metal pipes with protective or functional layers.
ZEPHYR is the most performing extruder manufactured by Tecnomatic, it features an array of advanced technical solutions which makes it ideal and suitable for pipe producers looking for even more focused energy saving machines, offering extreme output performance at lower melt temperatures. The innovation spans the entire extruder and includes new spiral grooved bush, screw and motors.
Pipe extrusion is highly dependent on electricity and most of the energy usage is in operating the extruder itself. The Zephyr series has been designed by focusing on this as a priority, in fact the extruders of this line feature increased screw length and AC water-cooled motors, to ensure same output of bigger size extruders but with a better energy efficiency.
The new feed bush ensures minor friction, commonly generated by raw material transport, with subsequent increasing of the specific and total throughput. The further development in screw design, with optimization and enhancement of torque and shearing elements, have improved the output but have also led to process the material at lower melt temperatures.
In a market, which is always more and more looking for highly innovative development, with respect to the growing improvement of material properties, single-layer pipes are not always able to fulfil the necessary requirements. Tecnomatic has well interpreted these customer needs and has developed, on the basis of the VENUS concept, a full range of die-heads for the production of 2, 3 or 4 layers polyolefin pipes even in big size.
The VENUS MULTI pipe heads have implemented important technological features in order to reach the best pipes processing and to fit a wide range of materials at very high output. The spiral geometry has been especially optimized for the latest generation of PE and PP raw materials, while length, volume and pressure have been reduced.  The heart of the VENUS MULTI consists of an innovative flow channels geometry, which has been calculated by considering the current raw material. This geometry assures the same behaviour for pressure and distribution of the melt, in every pipe head of the range, also at very high output rate.
The new feeding system of the spiral channels, as well as for the matching ranges and the small die sets contributes to reduce the working pressure. This influences remarkably energy consumption during extrusion taking into account that approximately 5 to 10% of the extruder power is necessary for the pumping capacity. Lower pressure also results in a lower increase of the melt temperature and with lower residence times assuring improved pipe's characteristics with regard to OIT (oxidation resistance) values, extra weight and thermal and shear stresses reduction.
Coated pipes
The inherent flexibility of polyethylene has enabled a wide range of techniques, including thrust boring, directional drilling and pipe bursting, to be used to install polyethylene pipe systems. Multilayer pipe systems have been developed with the specific objectives of improving the protection of the pressure pipes during such installations and to maximize the quality of the pipe system. This pipe, with a peelable outer skin, has provided significant economic and environmental benefits in water distribution pipelines and it is currently being tested and introduced into the Gas distribution networks. The jacket is made of a specially modified polypropylene material, which protects the surface of the inner pipe against potential notches and cracks generally associated with demanding installation methods such as pipe bursting or wash-boring. Even extremely deep notches in the protective jacket will not be transferred to the inner pipe when it is eventually exposed to service-related stresses. The core pipe is instead made from PE resins. The dimensions of the core pipe match those of standard solid wall PE pipes. "Adhered" to the outer wall of the PE core pipe there is a tough skin, which is typically 0.6 to 0.7 mm thick for all current dimensions of this new multilayered pipes.  The "skin" is added by a cross-head positioned before the last cooling bath.
To fulfill the needs of coated pipes production with protective layers, Tecnomatic has developed a full range of die-heads, based on spiral or radial technology suitable for both plastic or metal pipes coating with range from 5 to 800 mm, and solutions up to 4 layers. The die-heads are based on a typical spiral technology for large and single layer co-extrusion, while combined solutions with radial distributors or short path spiral are offered according to material characteristics or volume as for PA, EVOH, PVDF or adhesive bonds.