2020 starts in pursuit of expansion and with new trade fairs for Fimic
Since 1963, Fimic has been building a reputation as a recycling company, initially producing guillotines for cutting paper and plastic and then, in the 1980s, with the production of automatic, self-cleaning melt filters for the post-consumer and post-industrial recycling of plastic.
Fimic's self-cleaning melt filter is based on the principle of scraping because it collects the contaminants trapped by one of two types of filtering screens using a hollow blade holder. A laser-drilled screen is used for filtering from 80 to 300 microns or a punched screen for filtering over 300 microns.
With the laser-drilled screen from 80 to 300 microns, the final recycling application will be blown film extrusion, whereas from 300 microns and above, a punched screen is normally used for injection moulding.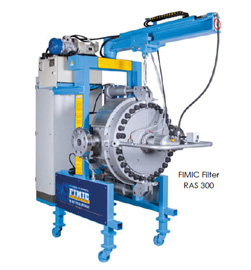 Fimic melt filters can be adapted to any single- or twin-screw extruder for production from 300 to 3,000 kilos and for any type of plastic material (e.g. PP, LDPE, HDPE, ABS, PS, PVC, PET, PVB, XPS, EPS).
The melt filter is generally used for highly contaminated plastic materials where the contamination of the plastic material with paper, metals, sand, cardboard, wood and infusions, quickly clogs up a manual filter and so, the decision is made to install an automatic screen changer.
Fimic, however, is renowned on the market as having the cheapest filter to manage. The filters and blades are the only parts that need changing after purchase and Fimic's company policy is to offer them at a cost that is three times lower than its competitors on the market.
With the installation of its 300th filter in 2020, Fimic is now recognised worldwide as a highly reliable partner for all recycling companies.
Fimic's strengths lie not only in customised production based on the customer's material, extrusion line and general recycling system, but also in the instant installation and support service thanks to five mechanical and electrical in-house installers and spare parts which are shipped within 24 hours by accessing a dedicated website with a reserved area for every customer.
A team of twenty-five staff dedicated to recycling and specialised in filtration is the backbone of Fimic.