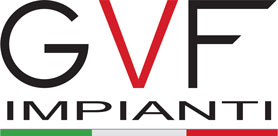 Dense phase pneumatic conveying systems: the gentle way to convey products
With more than 50 years of experience, GVF Impianti Srl is the ideal partner able to supply quality solutions for pneumatic conveying in dense phase and bulk material handling in sectors such as plastic, pet food, food, chemical and construction materials.
The wide range of production represents the know-how and the experience gained in each sector of application, thus making the company able to design and produce components, complex machines as well as complete turnkey plants since 1964.
Quality and innovation are keywords of GVF Impianti work.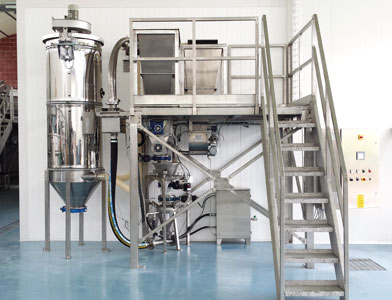 Solutions for bulk material handling
If you are searching for a complete plant for bulk material handling, GVF Impianti is the right partner. From the plant calculation to the installation on site, it can supply different solutions for product discharging, weighing, dosing, transporting, mixing, screening, filtering, and storing. Indeed, its production range includes:
• Big-bag discharging systems
• Sack emptying machines
• Pneumatic conveying systems in dense phase
• Pneumatic conveying line components
• Diverting valves
• Mechanical conveying systems
• Dosing systems
• Screening systems
• Horizontal mixers
• Cyclones and filtering systems
Low transport speed, reduced energy consumption and no products' contamination during transport. What you should consider when thinking about a dense phase pneumatic transport system
Is your product a fragile material? Is it a highly abrasive material or should you do some product changes during your production processes? Would you like to have a reliable solution which allows you to save energy and maintenance costs?
Low speed in the pipeline, wear-resistant components, cleaning cycles after transporting and a small amount of air consumption are only some of the advantages that you can obtain using a GVF Impianti's dense phase pneumatic conveying system.
Two are the transporting logics that this company usually provides, dense phase and extra-dense phase. In dense phase pneumatic conveying systems, the product flows at low speed into the transporting pipeline and a cleaning cycle is executed after each launch. Otherwise the extra-dense phase system allows to transport the product with the pipe full of product, thanks to a fine setting of the pressure management and allowing to transport fragile products in a gentle way.
Distinctive marks
What distinguishes all GVF Impianti's pneumatic conveyors is the special design of the components and the unique air distribution system, which distributes the compressed air in three main parts of the vessel: in the outlet, laterally, and inside the vessel.
To these features you should add:
• An automatic management system
• A low wear of pipelines and bends
• Reduced product un-mixing
• A very low air consumption
• An efficient air/product ratio
• No mechanical moving parts
• Low operational and maintenance costs
• Construction material both in carbon steel and stainless steel
Three main types of conveyor explain the production range: GA (with loading butterfly valve suitable for normal wearing products), GC (with an innovative loading cone-valve for highly abrasive products), GA COMBO (compact and modular for reduced available space).
On request, it is also available the version with load cells, for weighing the material before the transport, the HP (High-Performance) version for long distances and big hourly capacities, the HT version for products with high temperatures and the Atex classified version.
A full range of components for the pneumatic transport lines completes the company pneumatic conveying systems production: pipeline boosters, wear-resistant bends, wear-resistant terminal boxes, two-ways diverter valves and multi-ways diverter valves (from 3 up to 12 ways).
In-house production of PED compliant vessels
To improve the production quality and to control all the production processes internally, GVF Impianti Srl is WPS (Welding Procedure Standard) certified. The company produces in-house PED compliant vessels for its pneumatic conveyors, certified by TÜV (CE0948).
This leads to a higher possibility of products customization and to a stronger level of control for the entire production system quality.
All-round service: from design to installation
GVF Impianti all-round service begins with specialized engineering and technical staff that listen to customers' needs and turn them into a targeted project. GVF Impianti in-house production, with skilled carpentry staff, manufactures the end solution. The specialized mechanical staff install the system on site and the after-sales service gives the customers a prompt support. A complete answer for targeted solution.