Tecno System boasts extensive experience of design and construction of high-quality extrusion lines that feature cutting-edge technology for full customer's satisfaction
ecno System Srl has been offering its customers a high level of experience and know-how since 1957. It is one of the most important Italian producers concerning complete extrusion lines that meet most of the needs such as lines with different capacity (5 – 350 kg/h) and for a vast range of purposes in the field of extrusion of profiles (pipes, technical profiles, building profiles, medical tubes, thermal break profiles with glass fiber, etc.) as well as tubes made of all kinds of thermoplastic materials such as PVC (soft and rigid), PP, PE, TPE, EVA, PU, PA, PPR with glass fiber (GF). One of the most important businesses is the construction of dedicated extrusion lines for medical tu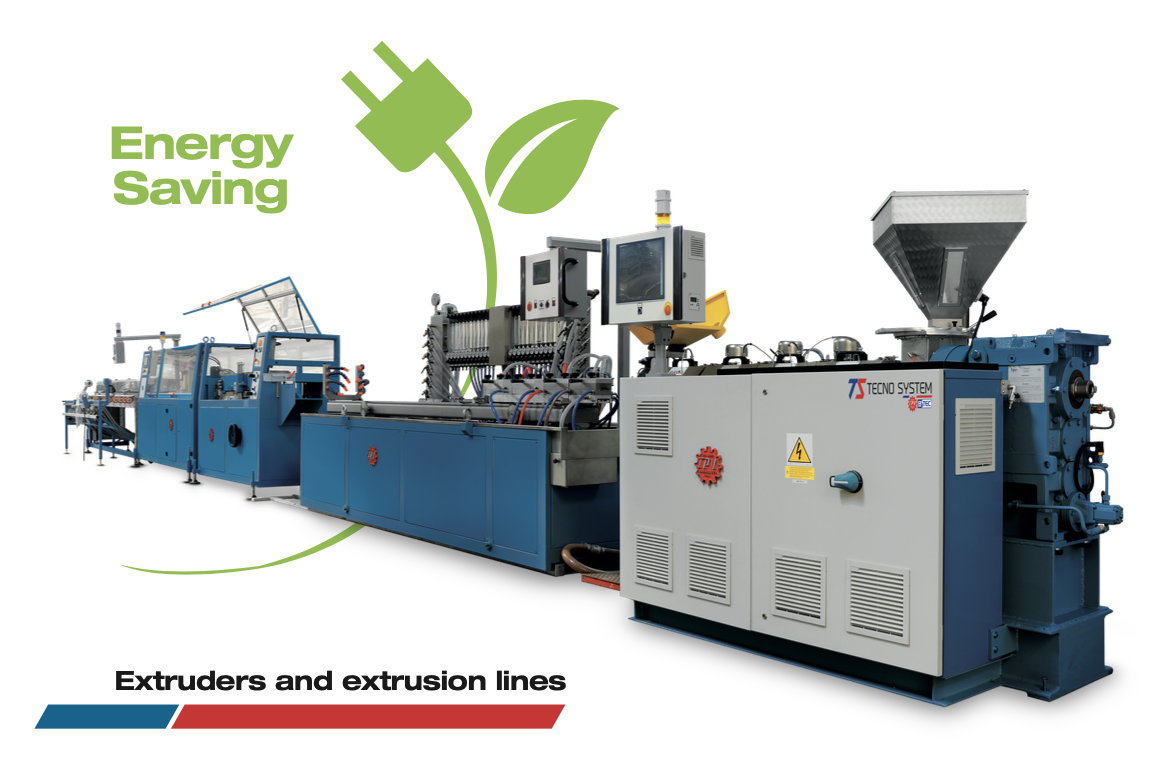 bing made in PVC, TPU, PEBAX, etc., used in clean room environments.
The experience in PVC profile extrusion is very solid as well as design and construction of high-quality extrusion dyes and calibrators for the extrusion of profiles for PVC window frames, roller shutters, panels, cable management ducts, gutters and rainwater pipes, etc., under the well-known brand B-TEC, property of Tecno System. In addition, the extruders produced under the renowned brand TPV Mechanical Division, have low energy consumption, energy saving units in the extrusion lines and innovative cutting units with radial hot blades. These skills give, as a result, a high level of customer satisfaction, quality achieved by the final product, together with the renowned strength and durability of the tooling.
As well as constructing extrusion lines and tools, Tecno System has also the ability to provide in-the-house technologies for mechanical processing of profiles, customer tailored solutions and turnkey systems, which represent a huge advantage. Great experience in the punching system ambit has allowed Tecno System to develop integrated solutions for extrusion lines, strategic corporate market policy.
Tecno System is getting stronger and becoming a leader in innovative spiral hoses extrusion lines – 4.0 ready – composed by two extruders, one for U-PVC and one for the soft grade PVC. This highly advanced technology extrusion line includes different strong points such as continuous marking of the tubes before they becomes spirals, fully automated cutting system, automatic tube ejection system, other than the fact that no operator is needed on the line during process.
Another flagship product is, without any doubts, the multilayer pipe extrusion lines – 4.0 ready –3 layers or 5 layers, complete with OD control, inkjet printer, and a final coiler.
An example is the multilayer process with glass fiber that improves the material properties such as dimensional stability, traction, compression and bending. It consists of PPR inner and outer layers and a special mixture of Glass Fiber (GF) PP middle layer, which allow to minimize elongation from heat and reinforces the structure.