The next Fakuma international trade fair for plastics processing will take place from the 12th
 through the 16
th
 of October, 2021. The 27th edition of the event, regarded internationally as the first port of call for injection moulding, extrusion technology, thermoforming and 3D printing, is being eagerly awaited by manufacturers and customers from the plastics industry as a live platform. Amongst others topics, attention will be focused on the issues of sustainability, efficient use of resources and circular economy.
The plastics industry, comprising plastics producers, plastics processors and manufacturers of plastics processing machines, accounts for roughly 6% of all German industrial production. According to the current bvse market report (German Federal Association for Secondary Raw Materials and Waste Management), roughly 421,000 people had jobs in about 3500 companies in the plastics industry with sales amounting to €97 billion in 2019. Key market figures declined during the course of 2020. Above all the recycling market, which serves as an essential basis for successful circular economy, has suffered a noticeable slump.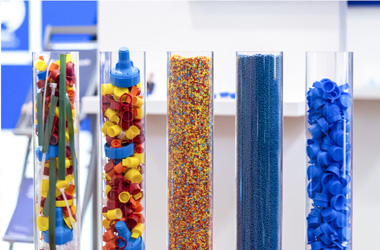 "Disruptions within the markets have made it plainly apparent that pricing for new materials and recyclates differ," says Dr. Thomas Probst of the German Federal Association for Secondary Raw Materials and Waste Management (bvse), speaker of the professional association for plastics recycling. "New materials are ultimately linked to the price of crude oil, which is unbeatably cheap at the moment. However, recycled plastics run through the entire recycling sequence including collection, sorting, conditioning and reuse. Through the beginning of 2019, the cost of recyclates and that of virgin material was roughly the same. The gap between prices for new materials and recyclates has widened to an ever greater extent as a result of falling crude oil prices, which have dropped even further due to corona. Plastics recyclers are also suffering from the fact that sorting quality is for the most part inadequate, on top of which it continues to deteriorate. The effort required to produce marketable recyclates is increasing as a result."
Consistent Further Development of Circular Economy is Required
Plastics manufacturers and processors are suffering from ongoing disruptions – in particular sales problems, plastics bashing and littering. All of these aspects are linked to each other. "The corona pandemic has further aggravated the situation." But Thomas Probst knows that a crisis also offers opportunities for reorientation: "Transformation of the plastics industry towards more sustainability has begun." Probst contends that plastics recycling is a positive factor which generates opportunities and markets worldwide and should be actively communicated.
For the Future: Digitalisation, Recycling and D4R
The next trend identified by Thomas Probst is "Design for Recycling" – D4R for short: Insoluble composites are being used to an ever greater extent in the packaging sector, for example labels and packaging which are fused together. In the case of hollow bodies, for example, a hot paper component is applied to the plastic and the paper fibres are thus included in the regrind. This is where D4R comes in as a favourable trend: D4R is an important instrument for taking the recyclers' specifications into account.
Meanwhile, many companies have elaborated and advanced their production concepts with regard to automation, digitalisation, networking and efficiency. And thus Fakuma 2021 is being enthusiastically awaited as an outstanding trade fair experience with forward-looking issues and sustainable solutions. Until then, Fakuma-Virtual is proving itself a useful instrument for keeping the professional exchange of ideas and experience up to date with regard to materials, machines, peripherals, processes, simulation, procedures, technologies and tools for plastics processing. But the value of personal contact amongst suppliers and users remains unparalleled. And thus the on-site Fakuma in Friedrichshafen from 12 to 16 October 2021 will be indispensable and can be scheduled as a firm date.