Multidrive: An exclusive patent from Bausano that makes twin-screw extruders highly performing
Made-in-Italy quality and ongoing technology innovation: this is the perfect mix behind the exclusive patent for MD Plus and MD Nextmover twin screw extruders from Bausano – a leading international player in the design and production of customised extrusion lines for the transformation of plastic materials. A perfect choice for several types of extrusion, pipes, granules, WPC, profiles and materials used in the medical industry, Bausano lines stand out for their unique transmission systems, a careful study of interpenetrating and counter-rotating screw geometry, the latest motors generation and consumption analysis tools, thus guaranteeing top production efficiency, sturdiness, reliability and sustainability. 
Primarily, it is precisely the Multidrive technology that makes Bausano twin-screws unrivalled throughout the world. Evidence of years of research and experimentation, this transmission system undeniably reduces stress on motor shafts, gears and screws thanks to the tightening torque strain being distributed on two pairs of motors, resulting in higher power on screws, equal to the power delivered, with a positive impact in terms of both precision and energy savings. Compared to traditional systems, the distribution of motion also reduces the chance of faults due to excessive stress on mechanical components and ensures a longer average service life of the machine. Motors are managed by a single static frequency converter, an instrument capable of ensuring constant rotation and perfect synchronism, without using any additional devices.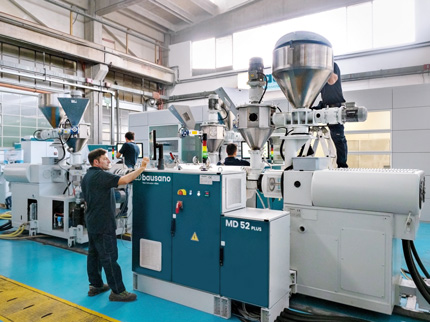 In addition, the special multi-stage thrust bearings, designed to triple the dynamic load, enable the extruders to handle high production volumes. For smaller lines, on the other hand, Bausano has developed Multidrive 2×2, characterised by a single pair of motors, thus reducing overall dimensions and optimising the gearbox operation.