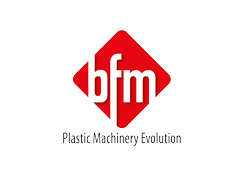 Presentation of the new Flexo Stack Press
Next July, bfm will have the pleasure of presenting "Sirio S – PLUS" during a digital event to which it will be possible to participate after registration.
Present on the market since 1975, bfm has been able to grow over the decades to become, today, a leading company in the field of plastic materials, from automatic take off units and winders for extrusion blown film lines, to Flexographic printing machines with central up to 10 colors and 2,4,6,8 colors stack type.
The last novelty is the Stack Sirio S- Plus printing machine
During the event all the technological innovations of the machine will be illustrated, remarkable printing quality, efficiency and productivity thanks to easy and precise job changes, great flexibility thanks to the capacity to process polymeric materials of different types also from materials of raw organic origin and also a compact and modern design.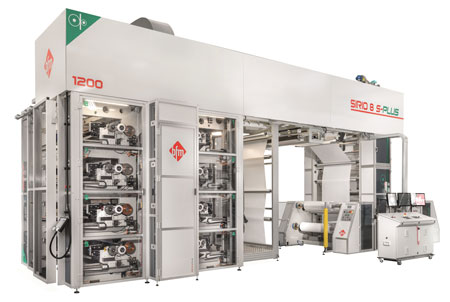 Like all bfm machines, the Sirio model – Plus is also suitable to be connected in the network and allows to take the advantage of the expected benefits and resources allocated by the National Industry 4.0 Plan, which has as its goal the digital companies transformation.
Sirio Model S- Plus are 6/8 color Stack type machines, designed for printing on different plastic materials for the packaging market, in line with the extruder or from reel to reel.
The printing repeat length is from of 350 mm up to a maximum of 1200mm, with printing widths up to 1600 mm. The line is composed of an unwinder with different solutions: stationary, shaft-less or revolver, 6/8 colors printing group with independent motorized counter-printing axis, electric grinding and pneumatic inking. The drying group is composed of an intercolor system and a drying box with electric or by gas heating and a winder with different winding possibilities.
The automation platform of this machine has been designed using the proven application experience of Bosch Rexoth, the industry leader in the automation of printing and converting machines.
This printer is the "right compromise" between costs and performance: in this case the use of IndraDyn MBT torque motors, which move the color group composed of counter-roller-cliché-anilox, guarantees great dimensional compactness and the right printing precision.
The use of the IndraDrive M digital series guarantees constant position synchronism between the different printing elements, with consequent register maintenance both at high speeds and during acceleration and deceleration.
The pre-setting and the automatic Initial registration are very quick and can also be done when the machine is stopped, significantly reducing energy waste and material waste.
The employed technical solutions, and the "cantilever system" for the change of "sleeves" for both anilox and cliché, have allowed to reduce the down-time work-changes.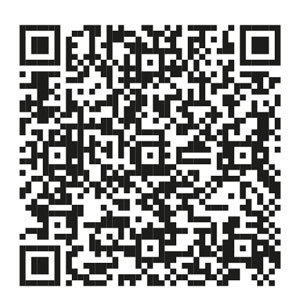 Among the novelties of S-Plus the new graphic interface, designed on 22″, simple and intuitive but at the same time complete for the management of all machine functions.
Bfm is looking forward to seeing you at its digital event!
To participate, scan the QR code and register on the form.
---
Evento digitale bfm – 8 luglio 2021
Presentazione nuova stampa Flexo Stack
Il prossimo luglio bfm avrà il piacere di presentare "Sirio S – PLUS" durante un evento digitale a cui sarà possibile partecipare previa registrazione.
Presente sul mercato dal 1975, bfm ha saputo crescere nei decenni per diventare, oggi, un riferimento a livello internazionale nel campo della realizzazione di macchine per materie plastiche, dai traini e avvolgitori automatici per linee soffio di estrusione, alle macchine da stampa flessografica a tamburo centrale fino a 10 colori e stack type a 2,4,6,8 colori. 
L'ultima nata è la macchina da stampa Stack Sirio S Plus
Durante l'evento saranno illustrate tutte le innovazioni tecnologiche della macchina tra le quali alta qualità di stampa, efficienza e produttività grazie a cambi di lavoro agevoli e precisi, grande flessibilità di impiego, grazie alla capacità di processare materiali polimerici di diverso tipo anche da materie prime di origine bio e infine un layout compatto e design moderno.
Come tutte le macchine bfm anche il modello Sirio S-PLUS è idoneo ad essere connesso in rete e consente di usufruire dei benefici previsti e delle risorse stanziate dal Piano nazionale Industria 4.0, che ha come scopo la trasformazione digitale delle aziende.
La stampa modello Sirio S-PLUS è una macchina "Stack type" a 6/8 colori, progettata per la stampa su diversi materiali plastici per il mercato del packaging, in linea con l'estrusore o da bobina a bobina.
Lo sviluppo di stampa va da 350 a 1200 mm su larghezze da 800 a 1600 mm. La macchina è composta da svolgitore con diverse soluzioni: fisso, shaft-less o revolver, gruppo di stampa a 6/8 colori con asse di controstampa motorizzato indipendente, macinazione elettrica e inchiostrazione pneumatica. Il gruppo di asciugatura è composto da sistema intercolor e cappa di asciugamento con riscaldamento elettrico o a gas e avvolgitore con diverse possibilità di avvolgimento.
La piattaforma di automazione di questa macchina è stata progettata con il supporto di Bosch Rexroth leader del settore nell'automazione delle macchine da stampa e converting.
Questo modello è un giusto compromesso tra costi e prestazioni: in questo caso l'impiego dei motori torque IndraDyn MBT, che muovono l'unità colore composta di controstampa-cliché-anilox, garantisce una grande compattezza dimensionale e la giusta precisione di stampa. 
L'utilizzo degli azionamenti digitali della serie IndraDrive M garantisce un costante sincronismo di posizione tra i diversi elementi stampa, con conseguente mantenimento del registro sia ad elevate velocità sia in fase di accelerazione e decelerazione.
Il pre-setting e la messa a registro iniziale automatica sono molto rapidi e posso essere effettuati anche a macchina ferma, riducendo notevolmente gli sprechi energetici e lo scarto materiali.
Le soluzioni tecniche impiegate, ed il "cantilever system" per il cambio di maniche "sleeves" sia anilox che porta-cliché, hanno permesso di ridurre notevolmente i tempi per cambi lavoro.
Tra le novità di S-Plus spicca inoltre la nuova interfaccia grafica, progettata su 22", semplice e intuitiva ma allo stesso tempo completa per la gestione di tutte le funzionalità della macchina.
Bfm vi aspetta numerosi all'evento digitale!
Per partecipare inquadra il QR code e registrati sul form.