Caldara Plast's production field is being expanded as to further increase the company's production capacity as to meet the customers' ever-increasing demand for regenerated material
new year new me, they say. For Caldara Plast the year 2022 opens with interesting news: the brand-new company's website has finally launched, in its English version too, after being on renovation throughout 2021. The new website is more efficient, user-friendly and accessible also via mobile devices and it has been enriched with contents related to the company as well as to the characteristics of the plastic materials it works with. The graphic is simple but effective and it reflects the company's idea. Another relevant aspect is a video, directed by a famous moviemaker, that we decided to shoot in order to show the process of transformation from a plastic waste to a whole new resource, mostly to explain to stakeholders every phase of our daily work.
What does Caldara do?
Placed in the heart of Brianza, Caldara Plast has been active since 1963. It started as a small family business specialized in recycling plastic materials, now it has grown into a medium-sized company and a reference point in the field of processing, regeneration, and trade of thermoplastic compounds in granules, able to create tailor-made products based on the costumer's requests for both the Italian and international markets, where it gained popularity in these latest years.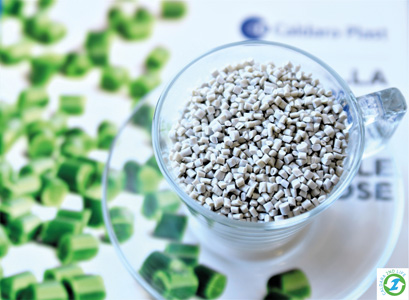 With its 50 employees and counting, its constantly growing turnover – although the difficulties due to the pandemic, Caldara Plast counts two headquarters and a warehouse: in Erba, we can find the Recovery Division specialized in management and recovery of different types of post-industrial plastic materials in Alzate Brianza (Como) the Compound Division specialized in the production and trade of plastic compound, with particular attention to technical polymers.
The main polymers produced are sinLAC ABS – sinBLEND PC/ABS – sinCARB PC – sinSTYR PS – sinMID PA6 E PA66 – sinTRON PPS – sinPOM POM – sinGLASS PMMA – sinKRYL SAN – sinTER PBT.
The overall production has been enriched by the line "Caldara 2nd LifeTM" dedicated to the granules resulted from recycled material, "Plastica Seconda Vita" and "Global Recycle Standard" certified. The products available for this line are: 
• "PSV Industrial Waste", granule composition 60-70-90% from recycled industrial waste in compliance with Italian UNI 10667 standards (ABS – PC – PA – PC/ABS, PS, PBT, PMMA, POM, PPS, SAN).
• "PSV from Separate Collection", granule composition 60-70-90% from recycling from separate collection in compliance with Italian UNI 10667 standards, including post-consumer ABS, PS, PET.
• "PSV Mixeco", minimum granule composition 30% from recycled material in compliance with Italian UNI 10667 standards; it includes all products available in the "PSV Industrial Waste" and "PSV from Separate Collection" versions.
• "The "Global Recycle Standard" type includes compounds resulting 100% from recycled plastic or with a part of regenerated plastic – from 1% to 99%, available in the following types: PA, PET, ABS, PS, PMMA, PC, PC/ABS, SAN.
2022 prospects and goals
Over the next few months, Caldara Plast's goals include the reorganization of its production field. This change will be necessary because the company has acquired a new warehouse – next to its Alzate Brianza headquarters – which in the near future will be partly upgraded and partly demolished and rebuilt. At the end of the necessary work, the new establishment will work on twin-screw extruder lines. This prospect will allow a further increase in the company's production capacity as so as to meet the ever-increasing demand for regenerated material from customers.
It will continue the collaboration with Planet Bioplastics, a spin-off of the University of Pisa of which Caldara Plast is the industrial partner. The start-up primarily deals with researches on bioplastics to ensure, thanks to Caldara Plast, that these products can be used at industrial level transforming them into disposable or semi-durable products with a lower environmental impact. Moreover, the collaboration with Velaworks, a start-up linked to the Department of Industrial Engineering of the University of Padua, continues for the production of PA6 halogen-free with green additives obtained from by-products. The shortage of raw materials has partly slowed down the production planned but in the coming months the company expects to industrialize the product continuously. 
Caldara Plast wants to tell stakeholders how plastic is a versatile material, recyclable and reusable countless times in the production process, thus reducing the environmental impact. In 2018, the global plastic production was nearly 360 million tons (Mt). The recycling of plastics allows a reduction of up to 90% of CO2 emissions compared to its production. Caldara Plast's mission is to give a second life to a waste that today can no longer be considered a second choice but the first choice of companies that care about the environment. 
www.caldara.it