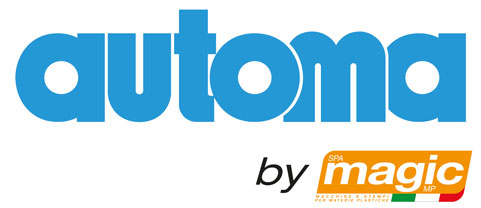 The new Automa by Magic machinery charismatically confirms the renowned solidity of the products that have always distinguished it in over forty years of activity
Everyone can recognise its name. The union of two historic names in the blow moulding world market, Automa and Magic MP, set up a new company more than three years ago. Automa by Magic was established in October 2018 and it is dedicated to the production of brand-new hydraulic extrusion blow-moulding machines either with continuous extrusion or accumulation technology. 
Over this period, the several customers' requirements have led to a revenue that has considerably grown over these years followed by the doubling of company's staff. Everything is evidently extraordinary for this new and young business venture. 
Automa by Magic is aimed at all those companies and operators faithful to tradition; therefore, its machines have been designed to be easy-to-use and their maintenance is within the reach of many.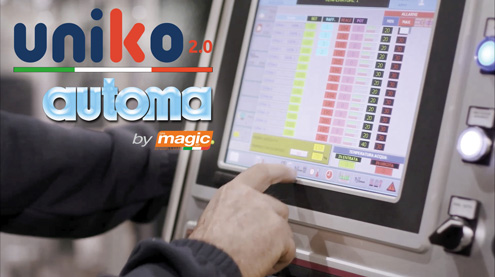 Automa by Magic products are made of high-quality materials and components, modern and reliable electronics combined with a simple and performing software. Its technology was born among a network of highly qualified and experienced manufacturers building modern systems that are 100% in-house tested before proceeding with the delivery to the final customers and it lets this company always be ready to support them and to greatly contribute to the successful realisation of any kind of project.
The new Automa by Magic machinery charismatically confirms the renowned solidity of the products that have always distinguished it in over forty years of activity. Automa by Magic means solidity combined with modernity and technology.
More than 20 machines have already been produced. Case histories of this period include the manufacture of several different types of continuous extrusion machines, with single or double station, together with some accumulation head models with a clamping force up to 50 tons. 
The most specific productions record the use of resins as clarified PP, polycarbonate used for the production of 19 liters/5 gallons water containers and most common HDPE.
Some systems have also been set up in COEX 3 version, to meet and comply with latest demands of sustainability and reduced environmental impact, by using recycled material (PCR) within layers of virgin. All this in multi-cavities, for high efficiency and productive capacity of very low weight containers.
Automa by Magic keeps taking care also of all after-sales services such as the supply of original spare parts, timely technical assistance to support end user's maintenance team in any moment, EBM machines complete refurbishment and the installation of brand-new PLC systems designed by our skilled Engineers, complete with its own studied software, known as UNIKO 2.0®.
UNIKO 2.0® is a functional solution, which can be customized and applied to any brand of extrusion blow moulding machine, either with continuous or alternate extrusion technology. Up today, more than 90 PLC retrofits have been carried out on several EBM machines worldwide. 
Experienced and skilled technicians also perform important revamping at Automa by Magic premises, enhancing old systems with more than adequate costs. This is how the old machines resume their productive life allowing the customer to obtain reliable productions and amortizing investments in a short time.
If required, it is also possible to recertify systems that have been overhauled by Automa by Magic becoming EC marked again according to the Machinery Directive, since safety is the first component of in-house produced or overhauled machines.
Automa by Magic takes advantage of a vast automatic warehouse in order to guarantee the availability of widely used spare parts.
All mechanical parts are produced by various loyal local suppliers according to manufacturer's original drawings and designs, to assure manufacturing and delivery times as quick and short as possible.
In the course of last year, a historical period during which the entire world has been invaded by an unexpected pandemic emergency, there has been a sudden increase in requests for Automa by Magic brand-new machines, as well as machines refurbishing and new control systems updates to be carried out at customers' premises, according to their requirements and specific needs. 
Automa by Magic has proactively and dynamically responded to this demands increase and successfully met all customer's necessities and satisfaction in the short term.