At Stand 13 A in Hall 13, Arburg is launching a clear message "There is only one Plan A" and brings concrete solutions to tackle sustainability and circular economy issues
Arburg will be exhibiting at the K 2022 trade fair in Düsseldorf from 19 to 26 October with its own stand of 1,900 square metres, plus a further 400 square metres for the arburgGREENworld pavilion in the VDMA Circular Economy Forum in the inner courtyard of the exhibition centre.
At Stand 13 A in Hall 13, Arburg is launching a clear message for its participation at the trade fair in Düsseldorf: "There is only one Plan A". 
"Plan A: Arburg has well understood the difficult context in relation to the important global issues of sustainability, the circular economy and the reduction of CO2 emissions, is approaching the issue strategically and operationally and is making its contribution as a machine manufacturer by bringing concrete solutions. The communication line 'There is only Plan A' also makes it clear that there can be no alternative Plan B when it comes to setting goals for resource conservation, circular economy and CO2 reduction – somehow also following the motto of the sustainability movement 'There is no Planet B'." And of course 'Plan A' also corresponds to the K fair's focal points of the circular economy, digitalisation and climate protection, which have become even more important globally since the last fair in 2019.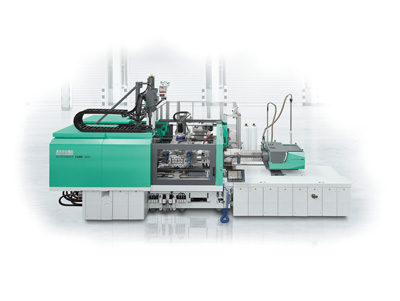 Arburg will be at K with its entire staff to illustrate with its 'Plan A' how digitalised and highly networked production contributes to resource conservation and greater production efficiency. In other words, it is about the interplay between the circular economy and high technology with the help of targeted digitalisation. Digitalisation can help to increase sustainability, conserve resources and realise the Circular Economy: for example, through the targeted separation and recycling of plastics. The R-Cycle initiative and marking technologies such as watermarks or QR codes, which are applied to products during the production process, serve this purpose. Or the equipping of the Gestica control system with various digital assistance systems to make the problem of the fluctuating quality of recycled materials easily manageable for all customers. Arburg will be addressing these issues both at stand 13A13 and in the arburgGREENworld pavilion.
Arburg will present technologies that enable sustainable and efficient production. Space-saving solutions, process control and networked peripherals will be on display, as well as completely new technologies, compact automation configurations and series production. A total of eight hydraulic, hybrid and electric Allrounder machines with a clamping force between 350 and 6,500 kN and two Freeformers for industrial additive manufacturing will be on display. All the injection moulding machines will be automated with robotic systems, in some cases integrated in complex turnkey systems and connected to the "arburgXworld" customer portal, which offers comprehensive digital support and access to a wealth of information and extensive Arburg know-how. Through the connection of the Allrounder machines and the Arburg ALS host computer system, it will also be possible to acquire and analyse production data in real time and significantly increase production efficiency and transparency.
Among the various interesting live applications, we highlight the production of "Greenline" plugs from Fischer on an Allrounder 370 A electric machine with 'recycle' package and Multilift robot system. The cell on the exhibition stand in the arburgGreenworld pavilion is able to recover the sprue, granulate it and feed it back into the production cycle
–  In addition to this application, three other machines will be equipped for green injection moulding specially equipped with the ARBURG recycling package:
– The electric Allrounder 470 A will mould PP handles from post-consumer recyclate (PCR). The application also offers secure 5G mobile connectivity, a pilot project of Arburg and Telekom.
– Allrounder 270 S servo-hydraulic will use recycled fibreglass-reinforced PPS to make tweezers, 
– Allrounder 375 V with six-axis robot and control module (ATCM) will produce a bicycle tool from recycled PA66/6 (GF50).
With regard to the hybrid drive, an Allrounder 1120 H, with a clamping force of 650 tonnes, will print a high-quality toolbox in Arburg design, while an Allrounder 630 H in packaging version will be set up as a clean room version to produce 18,000 clear PET blood tubes per hour. Using the Gestica control system and the OPC-UA protocol, the machine is able to communicate with the mould, hot runner controller, dryer and process automation.
Allrounder 720 A electric, Arburg will present an alternative to deepdrawing. Equipped with the new 1300-size injection unit, it enables high injection volume flows thanks to precise AMK servomotors. The machine produces round and thin-walled IML cups.
Completing the exhibition is an Allrounder More 1600 for the production of medical Luer lock connectors. The machine will be equipped with a Yaskawa robot, programmed directly via the press's Gestica control system, and an Allrounder Cube 1800 with an 8+8+8-cavity cube mould, implementing Foboha's new CITI technology. A PP, TPE and POM component will be produced with this cube mould.
Apart from Arburg's own products, products from two sister companies will also be on show: two 3D printers from innnovatiQ and components from AMKmotion for the Allrounder powertrain. With the acquisition of AMK – which took place last year – Arburg now has complete control over the development and production of the entire machine drive unit, including servo motors and servo inverters.