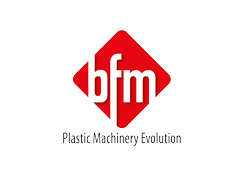 bfm has grown and become a leading company in the field of machinery for plastic materials, always with an eye on global sustainability
bfm, present in the field of machinery for plastic materials since 1975, has been able to grow over the decades to become, today, a leading company in this field, from take-off units and automatic winders for extrusion blown film lines, to flexographic printing machines with central drum up to 10 colors and Stack type up to 8 Col.
Thanks to the experience gained in over 45 years of business activity, a goal reached in 2020, the company has achieved excellent results in the acquisition of customers all over the world, with a significant presence in the Italian market. 
On occasion of the next K 2022, which will be held in Düsseldorf from 19th to 26th October and which this year will celebrate its 70th anniversary, bfm will have the pleasure of meeting the market again in presence with the hope of consolidating relations with customers already acquired and to create new ones.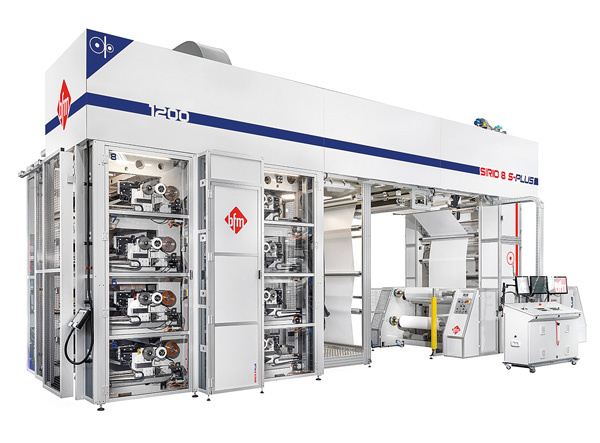 bfm, during the exhibition will present in the Stack type flexographic printing field, the Flexo Printer Stack type "SIRIO S PLUS" with some news linked to energy saving, as well as the possibility of printing with water-based inks in line with bfm's commitment to global sustainability.
Sirio S-Plus is a high performance 8-color stack type flexographic printer, which guarantee excellent results and high-quality printing on different materials from plastic to paper, for various fields of application, flexible packaging for food, clothing and pharmaceutical.
Particularly versatile, it allows to print various flexible plastic materials: HDPE, LDPE, PP, PET and also of bio origin.
All the technological innovations of the machine will be illustrated, including high print quality, energy saving, efficiency and productivity thanks to easy and precise job changes, great flexibility of use, thanks to the ability to process polymeric materials of different types and finally, a compact layout and modern design. 
Like all bfm machines, the Sirio S-PLUS model is also suitable for being connected to the network and allows to take advantage of the expected benefits and resources allocated by the National Industry 4.0 Plan, which has as its purpose the digital transformation of companies.
The Sirio S-Plus is equipped with Easygear and automatic print presetting, thanks to these features job change can be carried in total safety.
Among the novelties of S-Plus the new graphic interface, designed on 22", simple and intuitive but at the same time complete for the management of all the machine functions.
Still in the stack type sector bfm will present a "Line for industrial bags" complete with printing, gusseting and embossing for tubular (FFS), a line that has recently had a great success.
The industrial bag (FFS) is a flat tube with an embossed area and side gussets. This type of bags is normally used for the packaging of granules of plastic polymers (LDPE-HDPE-PP), fertilizers, salts, bulk goods.
This FFS line (Form, Fill & Seal) is composed of a motorized unwinder suitable for reels with a maximum diameter of 1500 mm, a 4-color Flexo printer (which can also be with 2 and / or 6 colors depending on the customer's request) width 800 mm, gusseting and embossing and finally an automatic winder, mod. W 400 – width 800 mm.
This line can also be equipped with corona treatment (refreshing or total) and micro-perforator.
In the central drum Flexo printer field, bfm will have the pleasure of offering to potential customers its Marte 8-color gearless flexographic printing machine, designed using the proven application experience from Bosch Rexroth, the industry leader in the automation of printing and converting machines.
The Marte printer is available in different printing widths; standard repeat length from 350 mm up to 800 mm (or 1200 mm Plus Model); the maximum production speed is 400 meters per minute.
Machine continuous improvement is for bfm a daily task: Every machine always shows something new, thanks to bfm's attention to the inputs coming from the market and from its customers.
bfm will be at K in Düsseldorf, Hall 17 – Booth C 05.