Caldara Plast works and invests to give plastic a second life, for an ever-greener future
2022 has been a year full of new investments for Caldara Plast, despite the complex global situation. In the perspective of continuous improvement of the production lines, two new dies were added to replace some that were close to obsolescence. The new dies and filters make it possible to create an even better-performing product by reducing waste, thus improving production performances and, thanks to the 4.0 software, allowing the entire production cycle to be controlled remotely. The challenge now is to train operators in the optimal use of this software in order to optimize the entire production process. 
At the same time, efforts continue for quality certifications of both business processes and products.  In particular, the latest inspection confirmed the PSV label also applied to post-consumer PC/ABS, i.e. GREENBLEND PC/ABS from separate waste collection, which has officially entered the range of certified Second Life Plastic products. This product is in addition to the products in the green line with the registered trademark "Caldara 2nd Life" with different percentages of certified recycled material contained in it and of different origins:
• GREENLAC – ABS compound from Industrial Waste, Mixeco, Separate Waste or GRS
• GREENCARB – PC compound from Industrial Waste, Mixeco or GRS
• GREENBLEND – PC/ABS compound from Industrial Waste, Mixeco, Separate Waste or GRS
• GREENSTYR – PS compound from Industrial Waste, Mixeco, Separate Waste or GRS
• GREENMIDE –PA compound from Industrial Waste, Mixeco or GRS
• GREENTER – PBT compound from Industrial Waste, Mixeco or GRS
• GREENGLASS – PMMA compound from Industrial Waste, Mixeco or GRS
• GREENPOM – POM compound from Industrial Waste, or Mixeco
• GREENTRON – PPS compound from Industrial Waste or Mixeco
• GREENKRYL – SAN compound from Industrial Waste or Mixeco
• GREENPET – PET compound from Mixeco, Separate Waste or GRS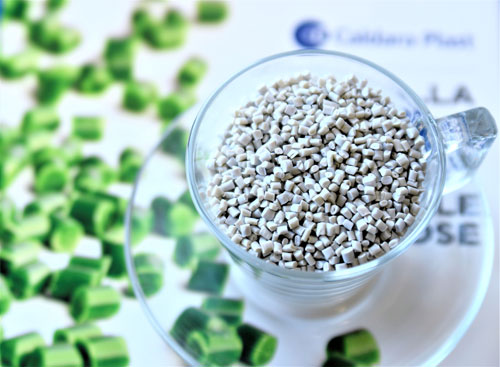 In addition to its line of certified green products, Caldara is able to produce tailor-made thermoplastic compounds from first-choice materials or modified industrial-grade products, guaranteeing constant support from our specialized pre- and post-sales technicians to customize the finished product.
A range of products, those of Caldara Plast, capable of satisfying the needs of all companies in the world of plastics in numerous sectors (electrical, electronic, automotive, furniture, household appliances, packaging, construction, housewares, molding, agriculture…) for both the Italian and international markets in which the company is finding ever greater space.
Six decades of specialization for greener plastics
Caldara Plast is a company that has been on the market since 1963 and will proudly celebrate sixty years on the market in 2023. The company operates in two distinct yet well-integrated activities: on one hand, we find the Recovery Division in Erba (CO), whose premises cover a total area of about 13,000 square meters and specialize in the management and recovery of scrap from different types of plastic materials (including ABS, SAN, PST, PMMA, PC, PP, PE, PA).
The Recovery Division offers the service of collecting and storing industrial plastic waste, possessing all the necessary legal authorizations. Being able to dispose of one's industrial plastic waste with the certainty that it will be reused is increasingly an added value for companies that supply it to Caldara Plast, obtaining a reasonable remuneration in return. The ground material is also among the products available in the catalogue, with the added advantage of being compliant with the UNI 10667 standard that certifies the origin of these by-products from the recovery and recycling of plastic waste.
The other side of the coin is represented by the Compound Division of Alzate Brianza (CO), specialized in the production and trade of plastic compounds, with a particular focus on technical polymers. The granules produced are mainly ABS, PC/ABS, PC, PS, PA, PBT, PET, PPS, PMMA, POM, etc. All this takes place at a production site covering a total area of approximately 33,000 square meters, about one third of which is covered.
Caldara Plast production process
The company's core business has always been the recovery of industrial processing waste, mainly from processes such as molding, thermoforming, extrusion and blow-molding of different types of plastics. These materials are then ground through mills at the Erba site, which is duly authorized for the recovery, transport and storage of the inputs used, which by law are considered waste. Caldara Plast directly organizes the entire cycle, from the collection of waste with the help of its own fleet of vehicles, providing companies with special tanks, roll-off skips and presses to collect the material. The material destined for recovery, once ground, is stored in the warehouses and can consequently be sold as such or sent to the Alzate Brianza site, which specializes in extrusion for the production of customized thermoplastic granules.
In the Compound Division, the ground material is thus processed and, depending on the customer's specific requirements, it can be re-granulated without additions, or it can be additivated (with flame retardants, also halogen-free, glass fibre, carbon fibre, glass spheres, anti-static, laserable, UV, antibacterial, conductive additives, aramid fibre) and/or pigmented and then extruded with special single and twin-screw dies. All together, Caldara Plast boasts no less than 15 extrusion lines with relative mixers to homogenize production batches. Processing takes place on a continuous cycle, consequently managing to extrude, at full capacity, over 100 tonnes per day of material for a total of approximately 22,000 tonnes per year.
The division's laboratory houses specialized technicians who constantly check the quality of the product, both incoming and outgoing, directly on site, thus personally guaranteeing high quality standards and keeping them constant over time. 
Well aware of the fact that respect for the environment and the incentive to use recycled plastic are driving the markets well beyond forecasts, Caldara Plast is structuring itself in an increasingly efficient manner to respond to the consequent constantly evolving market dynamics, in line with the company mission, which is to reduce the share of non-recoverable plastic waste to a minimum and to promote the culture of using regenerated material, considerably reducing the use of virgin raw materials, where technically feasible.
Caldara Plast is increasingly convinced that the use of regenerated plastic material must increasingly be the first choice of companies that care about the environment.
On its side, Caldara Plast works in the field of innovation understood as a renewal action, which has led the company to collaborate with some researchers and professors at the University of Pisa with the aim of focusing on product innovation. The 'Planet Bioplastics' start-up, of which we are a part is a reality where real technical skills and theoretical expertise meet in a constructive dialogue capable of creating innovation. The goal is to achieve industrial production of biopolymer compounds with commercial application in the future. Caldara Plast is also the partner for the industrialization of a new generation of self-extinguishing halogen-free PA6 with excellent mechanical properties studied by the start-up 'Velaworks' starting from research carried out by the University of Padua – Department of Industrial Engineering.
Caldara guarantees its customers compliance with all legal authorizations for waste collection and storage, as well as with all relevant European and international regulations (RoHS, REACH, etc.). The company is also ISO 9001:2015 and ISO 14001:2015 certified. 
So many actions, those of the Como-based company, that day after day allow it to work to give a second life to plastic. For an ever greener future.