Yizumi celebrates its 20th anniversary stabilizing its presence on the market, heading towards the uniqueness
In the next K 22, planned in Düsseldorf the next October (19-26), Luca De Cenzo, the PPI's sales manager of Italy's exclusive distributor, reveals: "Yizumi will celebrate its 20 years of life, and this will be the perfect opportunity to meet up with our customers again, after two years of restrictions due to Covid19."
Year after year Yizumi has been consolidating its constant development in the injection moulding machine industry and also in the die-casting one, where the Leap technology is giving a lot of satisfaction.
Yizumi is going to introduce in the next K 22 three important applications. An automotive application with IMC technology (in mold compression), in other words an over-molding application of electrical circuits applied for the automotive sector. The area will be formed by a 500 press of the D1 series (two platen), an anthropomorphic robot and a series of auxiliary accessories manufactured by Yizumi.
"An automotive moulding area consisting of a 240 ton in 2K multimaterial version (overlapping and inclined injectors) for the automotive sector and a packaging area consisting of a 200 ton PAC series press, a fast press with side entry robot for IML, dedicated to packaging, all with related automations.
In this way, two of our main areas of expertise will be covered. 
An example of the many variants that Yizumi can provide, in addition to the standard product – also because of a great distinguish factor compared to the competition, always coming from China itself – is precisely the ability to produce many tailor-made machines at the request of the customer, so 2k, 3k models with overlapping, parallels and rolling injectors, integrated rotary tables, electric satellite injectors, and much more.
These specializations are tailor-made directly in the headquarters' plants, after a long and profound process of preventive analysis of the projects. Even getting to the 3D models of the printed parts with all the dedicated automation parts, since we are now talking about complete lines and the goal is to ensure a finished product, a precise result, going beyond the simple meaning of selling machine.
To be honest, even if some skepticism remains towards the Chinese product in general, it is also right to highlight that many multinationals, not only Italian ones but also Europeans in general, have already approached this product in their external subsidiaries. It's a process of self-awareness, maybe you have to touch it before trying. And the farther you do it from home the better it is."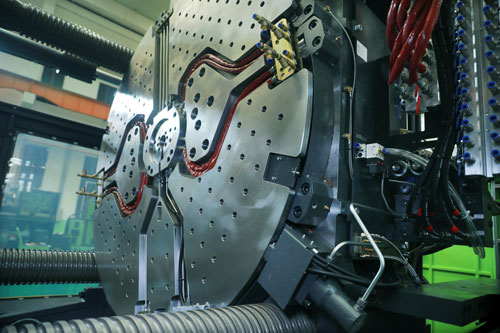 The machines on display at K 2022
The three injection moulding machines that will be possible to admire at the fair, will therefore be complete with automations, made by the parent company – as specifies De Cenzo – that entering the technical details, adds: "PAC 200 tons will have a robotic side entry mod. YR8, specified for IML application, is a high-speed robot dedicated to the world of packaging. D1 model, a two-platen machine, with servo pumps and inverter dedicated to all movements. For FF240 electrical model dedicated to the technical sector, however, which falls within the group of machines such as C, BTP, NTW, BTL, the nomenclature depends on the configuration of the injectors; so obviously everything starts from the project, the hydraulic level that already have supplied with servo pumps and inverters. Finally, as far as the PAC is concerned, the proposed applications will be defined later through brochures, but it is traditionally hydraulic, so it could be generally equipped with accumulators or with dedicated pumps under inverters."
The expansion of Yizumi brand in Italy is giving great satisfaction to PPI. As pointed out by De Cenzo: "The reception has been very positive, and, as we expected in the last three years, the growth has been gradual but constant; we are not pushing too much also because we want to have a consolidated growth, without excesses and, consequently, the risk of leaving the market, as happened to some Chinese competitors. We plan a very precise industrial development choice and the feedback is excellent: both our customers and competitors speak well of Yizumi. 
After all, we notice that the product is a step above the Chinese average and, in some applications, we even begin to compete with the Germans, which means a lot in terms of reliability, performance and brand perception."
Guaranteed service
"A training program lasting about two months began about a month ago: a Chinese technician will support us in Italy to directly train both our employees and external technicians. For the assistance part we also have in charge the part relating to Industry 4.0 activations, the international interface protocol between the press and the "field", therefore everything related to the remote control and remote assistance. At the same time, we are carrying out the development of a software package that will allow assistance through augmented reality at customers, to guarantee real-time correspondence not only from the parent company but also on the field, from the customers themselves (CMS)."