With almost 50 years' experience, RPE is well-known in international markets for its high-quality solenoid valves, flow meters, pressure reducers, filters and fittings for a wide array of industries and applications
PE designs, develops and manufactures high-quality solenoid valves, flow meters, pressure reducers, filters and fittings for a wide array of industries and applications. 
RPE has almost 50 years of experience in the industry, offering its products worldwide. It is proud to be ISO 9001:2015 certified and compliant with international food and electrical certifications. 
RPE's leading assets are its continuous Research & Development and the flexibility to customize products to customer's requirements and specifications.
This company is continuously working in the development of new products and creative solutions for a wide variety of applications, including professional food equipment, coffee and tea machines, beverage and filtration systems, medical and dental solutions, sanitary applications, commercial cleaning equipment, marina applications, irrigation systems, steam machines, household appliances and hot tubs and spas.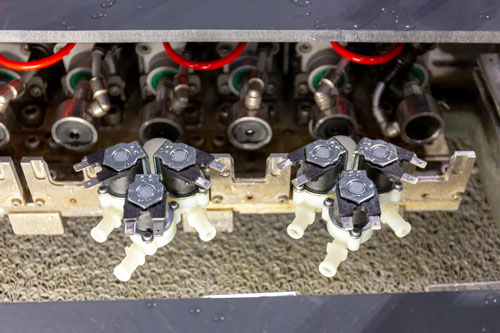 Discover RPE by application:
Professional food equipment: Its solenoid valves have been developed and are used in combi-steam ovens, ice and vending machines and ware-washing equipment.
Coffee and tea machines: Solenoid valves, flow meters, pressure regulators and filters for espresso machines, coffee and tea brewers and dispensers.
Beverage and filtration systems: The solenoid valves, designed for water and beverage dispensers and vending machines can have 2 or 3 inlets. As they have been specifically designed for handling two or more different types of liquids such as sparkling and tap water, cold and ambient temperature water.
These valves are also used in filtration and reverse osmosis systems, providing flexibility and reduced dimensions for small equipment units.
Medical & dental solutions: RPE entire product range, from an inlet valve to fluid control components, such as our flow meters, pressure regulators and filters are a perfect fit for laboratory equipment, dental chairs, professional sterilization machines, bedpan washers and disinfecting equipment.
Sanitary applications: RPE's R Mini and Micro Series solenoid valves are widely used in electronic faucets and flush valves and the 800 Series has showed great results and extraordinary features on automatic soap dispensers. 
All of these valves are characterized by their reduced size, extreme performance and resistance.
The use of high-temperature polymers ensures strong quality life under the complex and extreme conditions found in sanitary applications.
Commercial cleaning equipment: Customized solutions for floor scrubbers, sweeper-scrubbers, carpet cleaners and extractors, floor machines for the professional and DIY cleaning industry.
Marine applications: RPE's unique assortment and broad configurations make its products a reliable and essential solution to supply water in boat docks and marinas, as well as for sanitary applications in boats, cruise ships and working vessels.