CMG Granulators is one of the exhibitors of Packaging & Recycling 2023, the event will be held at the Museo Storico Alfa Romeo in Arese – Milan on 21 and 22 June 2023. Visit the stand 19.
Packaging & Recycling 2023 is the forum for packaging and recycling companies, an event that industry operators cannot absolutely miss. Now at its sixth edition, Packaging & Recycling 2023 is dedicated to plastics packaging and its lifecycle, from design to post-consumer recycling.
Innovation & Performance: New cutting chamber design
CMG is introducing a brand new cutting chamber design for its Evoluzione series granulators. The new rotor configuration allows the rotor blades to cut the plastic feedstock perpendicularly against the bed blades, obtaining the highest degree of cutting penetration and precision.
The rotor blades are mounted on the edge of the rotor holding modules and not on a holding block. Not only this feature is beneficial, as the inclination of the rotor blades is very high, but it also allows easy and quick servicing/replacement of the blades, with comfortable access from the front of the machine.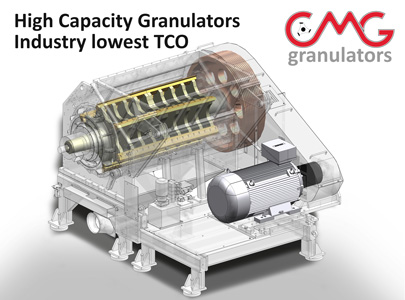 ---
CMG Granulators will be at InterPlas Thailand 2023 with distributor Piovan Asia Pacific
CMG Granulators will be, together with distributor Piovan Asia Pacific, at InterPlas Thailand 2023 exhibition, from 21 to 24 June in Bangkok. 
Come visit CMG and discover our new SL series at stand 2D19, Hall 102.
Purpose designed screen-less granulators for highly technical injection molding
CMG launches a new series of low speed screen-less granulators with innovative and unique attributes, all contributing to obtaining the highest degree of regrind quality (homogeneous particle dimensions and absence of dust), efficiency of operation, ease of cleaning and the best application flexibility. The new SL range consists of four models, for capacities going from 5 kg/h up to 30 kg/h.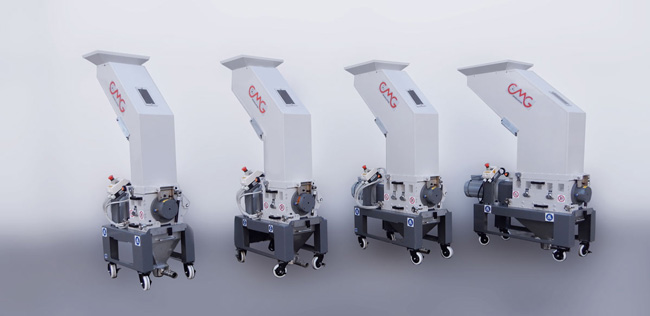 Innovative rotor design
The new SL granulators by CMG are designed to produce the most homogeneous regrind shape and dimensions, without any dust. The rotor cutters perform a fine and precise cut of the parts to regrind and do not fracture or crash them as conventional screen-less granulators do. The sector grinding elements are available in three different sizes, to obtain the most adequate regrind size for the injection process. The great advantage of dimensionally adequate regrind is most appreciated when the SL granulator is coupled with small tonnage injection moulding machines. The SL granulators produce regrind having dimensions comparable to the virgin pellet.
Customer Service
With Headquarters, Production Site and Technical Center in Italy, and the largest distribution network in the plastics industry, CMG is active all over the world with localized technical service, spare parts and sales centers. Find the nearest CMG service center at the following link: https://www.cmg-granulators.com/en/contacts