The spirit driving Sirmax in this new production can be attributed to its vision and mission, which prioritize sustainability and upcycling
In recent months, Sirmax Group, a brand manufacturer based in Cittadella (Padua), has been conducting research focused on components for car interiors. The company specializes in the production of polypropylene compounds, engineering polymers, post-consumer compounds, and bio-compounds, catering to various sectors such as automotive, appliances, power tools, household items, electrical and electronic devices, construction, and furniture. Sirmax has successfully developed innovative materials inspired by natural elements such as wood, stone, marble, and granite for the automotive industry. These compounds not only provide a natural aesthetic effect, achieved through printing with a smooth finish or special embossing, but they also incorporate sustainable raw materials. These include recycled post-consumer polymers, biopolymers, and natural fibres or fillers in specific percentages tailored to meet customer specifications. The application of these compounds in car interiors eliminates the need for additional fabric coatings to enhance the elegance and tactile appeal of plastic parts. This not only saves assembly time and costs but also extends their usage to certain exterior components like mirrors or bumpers. Sirmax's "special" plastic, enriched with recycled content, offers a wide range of options, from the "wood" effect to various shades of grey, black, ivory, and more. This innovative solution adds to the company's already extensive collection of automotive-approved products.
The spirit driving Sirmax in this new production can be attributed to its vision and mission, which prioritize sustainability and upcycling. The Group's focus is on developing new compounds that incorporate a minimum of 30% recycled polypropylene derived from flexible films. These films are sourced from municipal waste collection systems. The resulting compounds exhibit exceptional performance, making them suitable for the injection moulding of automotive components. Sirmax Group's primary objective is to convert post-consumer plastic into a high-quality, environmentally friendly material that possesses durability and characteristics very similar to virgin plastic. By doing so, the company contributes to reducing CO2 emissions associated with plastics processing and adopts a circular model that extends the lifespan of plastic products.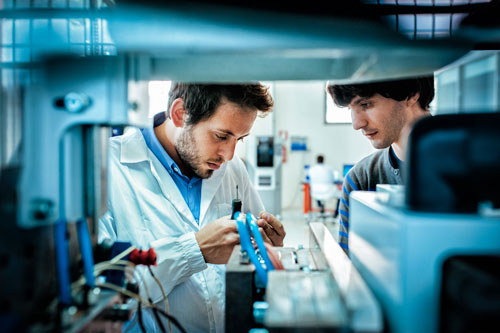 And that's not all. Recognizing the intricacies involved in the injection moulding of recycled or recycled-content plastic materials, Sirmax Group has entered into a partnership with Smart Mold, a research and engineering company created by the University of Padua that offers customers a wide range of crucial services. These services include evaluating the mechanical characteristics of materials using advanced simulation software and offering consultancy services to enhance product performance while reducing weight, cost, and environmental impact. Additionally, they collaborate with clients in the co-design of the final product and for the selection of the most suitable materials to achieve optimal performance.
Sirmax is also actively involved in the biopolymer market with the Biocomp product line, a family of compounds derived from plant-based biomass. These compounds are 100% biodegradable and compostable. The Biocomp line is suitable across various application areas, including bags, films, foils, and sheeting for mulching, disposables, and semi-durable goods. Specific formulations within the Biocomp line are designed for the injection moulding and extrusion processes, catering to both pre-made items and sheets used for thermoforming. The biocompostable granule variant is intended for the production of plates, cutlery, glasses, food take-out trays, and other rigid food packaging items that will subsequently be disposed of alongside organic waste. The same material, with specific modifications, is also available in an injection moulding version, making it suitable for applications such as coffee capsules.
The packaging sector is also a focal point for Sirmax. During the upcoming trade fairs, the company will showcase a 100% post-consumer recycled compound, specifically designed for the detergent industry, among other innovative offerings. This granule is intended for bottle-to-bottle applications, where it is used for the production of bottles, jerry cans, and containers for household cleaning products, personal hygiene items, and liquids used in the construction industry. Unlike the conventional approach of using blends of recycled and virgin plastic for bottle-to-bottle manufacturing, Sirmax's initiative is centred around using exclusively 100% post-consumer, higher-quality plastic. This approach ensures the production of a material that meets the stringent requirements for blow moulding processes, ultimately resulting in a sustainable solution for bottle-to-bottle applications.
Another noteworthy product in Sirmax's extensive range is the Xelter family of thermoplastic elastomers. Xelter serves as a sustainable substitute for vulcanized rubber, thanks to its thermoplastic recyclability. It stands out for its exceptional flexibility and the capacity to cater to specific client requirements. In a testament to its significance, Sirmax has dedicated one of its 13 sites and a research and development centre in Poland exclusively to Xelter.
The Board of Directors has recently approved the three-year plan for 2023-2025, which involves an additional investment of €20 million. This investment will be used to enhance the production capacity of the plants and to sustain the ongoing research efforts focused on renewable and sustainable products. Building on the success of the previous year, which saw sales reaching €501 million (a 7% increase from 2021), Sirmax aims to further expand the green segment, encompassing recycled compounds and biocompounds, which now accounts for 10% of total sales.
In the forthcoming years, Sirmax will dedicate special attention to the automotive sector, which experienced a 12% growth in the first quarter of 2023. With the anticipated rise in electric car production, this sector is expected to witness continuous expansion. Massimo Pavin, Sirmax Group President and CEO, explains, "The automotive market appears to have rebounded, and there is a growing demand for components made from recycled plastic materials. We are concentrating our efforts on developing our new businesses, particularly within the circular economy framework, which we have heavily invested in. Furthermore, we are closely monitoring the supply of performance compounds for electric car battery boxes, a segment that is experiencing robust growth. Our fully localized value chain, research initiatives focused on sustainable products, and injection moulding services will serve as our true competitive advantage in the next five years."
Sustainability serves as the underlying foundation for all of Sirmax Group's endeavours. This commitment is reflected in various initiatives, such as the Sustainability Report, certifications like the esteemed "Great Place to Work" title earned in 2022, and internal actions geared towards shifting the Group's focus to parameters that ensure competitiveness in the market. The Sustainability Report is now in its third edition following the reports of 2020 and 2021. The upcoming 2022 edition will highlight Sirmax's efforts to reduce emissions, with the target of achieving a 50% reduction in scope 1 and scope 2 emissions by 2025. Additionally, there will be a specific focus on minimizing emissions associated with the procurement of raw materials.
"We are counting on achieving this," explains Marco Moretto, Global Director of Opportunity to Market, "mainly by using circular products in Sirmax compounds instead of virgin raw materials, but also by creating formulations with bio-based or low-emission content. Additionally, we will pay the utmost attention to the supply chain, as having green suppliers is crucial for truly achieving sustainability."
Sirmax will be exhibiting at:
– Fakuma, the international trade fair dedicated to industrial plastics processing, from October 17-21, 2023, at booth B2, hall 2207
– Plast, the international exhibition for plastics and rubber industry, from 5-8 September 2023, at booth C146, hall 9.