COMERIO ERCOLE is a leading Italian company well-known globally for its focus on innovation, quality and environmental protection
COMERIO ERCOLE is a leading Italian engineering and manufacturing company, founded in 1885, specializing in rubber and composite material processing and in machinery used to manufacture such products. The company is well-known globally for its focus on innovation, quality and environmental protection.
COMERIO ERCOLE has recently introduced a new Digital Platform named HERCULES40®, which is aimed to supply to COMERIO ERCOLE customers a data-driven analysis tool for a continuous improvement of production process, including energy consumption optimization, as well as added-value after-sales services. HERCULES40® enables new digital services to increase the efficiency of the machines and to optimize the customer process creating a data-oriented collaboration.
COMERIO ERCOLE is more and more concentrated on the end-user support and two recent new products have been presented to our customers, reconfirming the "onsite" firm commitment for rolls maintenance process. The "heart" of any calendering process is linked to rolls status, therefore COMERIO ERCOLE has developed two alternative tools supporting "onsite" maintenance process: with SANDBLASTER® to keep and/or recover a certain roughness is now permitted as well as with POLISHER® any need to clean and recover rolls surface is now permitted too.
COMERIO ERCOLE has recently developed some very important technological innovations. The first is a revolutionary calender named "FLEXI®" suitable for PVC sheets, with rolls high-precision hydraulic positioning and designed with 4 or 5 rolls according to the type of processed product (soft or rigid PVC). The new inverted-L configuration of the calender allows a wide range of applications as it is designed to work with 4 rolls and 3 lamination banks or alternatively with 5 rolls and 4 lamination banks, providing the same post-calender section with stretching-embossing and cooling unit.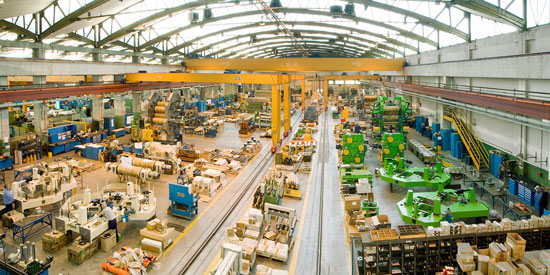 COMERIO ERCOLE has recently filed another new and important PVC calenderline reference for engineering and manufacturing process for a very important PVC "far east" manufacturer: an impressive 5-ROLL PVC calendering plant, which has been designed, engineered and manufactured with 2400 mm rolls width, for pharmaceutical and printing graphic application field. The calender unit is equipped with COMERIO ERCOLE patented high precision and top performance fully hydraulic nip adjustment "HYDROGAP®" device. The calenderline is composed of an innovative take-off and stretching unit, an "in-line" embossing unit with fast change device and movable cooling unit. A proper automatic windup unit is included in the scope of supply together with thickness gauge device, automatic bank control system based on thermo-cameras, as well as all TCU units for the calenderline. 
COMERIO ERCOLE takes care about the whole plant "engineering", granting a full "MASTER PLUS®" service package complete with mechanical, fluidic and electric diagrams and data sheets.
COMERIO ERCOLE is constantly innovating in terms of high technology and reliable advanced process with a constant and qualified investment in Industry 4.0 sector.
COMERIO ERCOLE staff will be happy to welcome you at stand 11 A 61 at PLAST 2023 and at stand 1 1B169 at RUBBERTECH 2023 to show its innovations.