At K 2019, leading company in automatic dispensing field LAWER will exhibit innovative powder weighing systems at Booth E08 in Hall 10
Quick, safe and exact dosing of powder ingredients. Since 1970, this has been the goal of the Italian company based in Piedmont, leader in the automatic dispensing field.
At the K fair, LAWER show in Booth E08 – Hall 10 their own innovative powder weighing systems for preparation of blends, compounds and recipes, developed from the extensive experience gained with their customers in the rubber & plastic industry.
SUPERSINCRO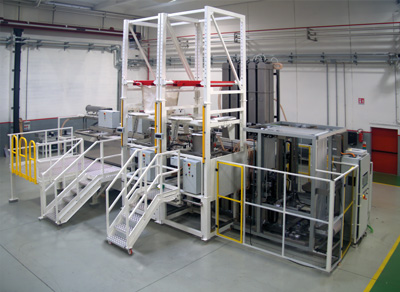 Multiple weighing system for powder products
The modular system can be suited from 10 to 60 stainless steel storage silos of 200/300 l. capacity.
Each product, received in bags or big-bag, is loaded into its own silos by gravity or pneumatically. The silos are equipped with VSF dosing devices coupled to a dedicated weighing scale. The containers handling system provides a step-by-step positioning of the bags below the silos.  Supersincro allows to produce indicatively from 40 to 120 preparations/hour, delivering products weighed into bags of two different capacities automatically supplied, cut and vacuum sealed from a tubular roll of plastic film (EVA). Identification data is printed on the bag ant the end of each preparation.
UNICA HD / SUPERCOLOR
Sequential weighing systems for powder products & pigments
The two modular systems allow the automatic dosing of powder products of different types (i.e. ingredients, pigments, etc.).
UNICA HD, for powder ingredients, can be equipped with 12/24/36 storage silos of 50 liters, loaded by gravity;
SUPERCOLOR for powder pigments and products, can host from 10 to 150 silos of 150/300 liters, loaded for pneumatic vacuum.
In both systems one or two weighing trolleys slide under the silos, positioning in sequence the collecting vessel, suited of a pre-formed plastic bag. Indicatively, depending on the model, the systems can produce from 6 to 20 preparations/hr.
A device provides for automatic loading and unloading of buckets.
The systems, available as an option also in ATEX version, are managed by PC and dedicated software and complete with an effective dust extraction and abatement unit to guarantee hygiene and safety in the working environment.