After first paralyzing China, the ongoing coronavirus pandemic is now testing the very fabric of societies worldwide. It is challenging governments, companies and individuals alike, while reinforcing the key role played by plastics and polymers in keeping people safe and healthy.
The irony is that, until recently, plastics in some quarters was being considered the scourge of the earth, from a sustainability perspective. But the need to find ways to contain the spread of the virus and to both serve patients and protect healthcare workers and others has served to underscore the very properties that help to make plastics so vital to society – including its ability to promote hygiene while being highly disposable.
Single-use plastics play key role
Some government bodies, including in the U.S. states of New York and Maine, have stopped eco-driven plans to implement bans on single-used plastics such as retail shopping bags, as they are less likely to spread germs than frequently reused fabric carriers. Others have un-banned expanded polystyrene food containers, as they are unquestionably effective as packages for take-out and home-delivery food from restaurants.
Meantime, the demand for certain types of plastic-intensive products is soaring. This includes housings and parts for medical gear such as respirators and ventilators, as well as personal protective equipment (PPE) for healthcare workers such as masks, gowns, and goggles. And as hospitals and clinics in some areas struggle to keep up with the patient influx, other standard medical products continue to help the cause – from polycarbonate syringes and IV components, to PVC medical tubing and blood bags.
3D printing to the rescue
Additive manufacturing has a vital role to play, as well. Recently, an Italian 3D printing start-up called Issinova jumped into action, reverse-engineered a valve for a ventilator machine, and within hours was able to produce replacements for out-of-stock valves that helped to save the lives of several people in a hospital in Brescia. Local news reports said the company used a filament extrusion process and several Fused Deposition Modeling (FDM) machines to 3D print a plastic valve at a cost of about $1 per part. The original part costs about $11,000, according to the report. Others see additional opportunities to use 3D printing to produce critical, in-demand medical components in the face of ongoing parts shortages.
Italian 3D printing start-up Issinova reverse-engineered and printed this ventilator valve when a local hospital faced an urgent shortage.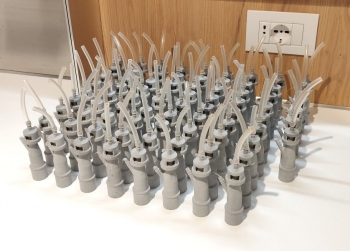 In Wisconsin, meanwhile, a U.S. plastics publication recently reported, PET sheet manufacturers, 3D printers and packaging companies are joining forces to turn out clear plastic face shields that are badly needed in the University of Wisconsin health system.
Some plastics firms in Wisconsin partnered to produce clear PET face shields need by a local healthcare system.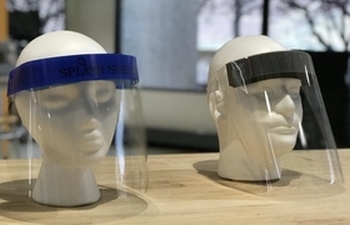 Ineos Styrolution donates masks
Styrenic resin supplier Ineos Styrolution, meanwhile, in early March sent 20,000 single-use face masks to be distributed to communities across local districts of Foshan and Ningbo, in support of China's response to coronavirus. Ineos says it sourced these supplies through its networks within the Asia Pacific region. The firm sent 10,000 single-use face masks to Sanshui Center of Disease Control in Foshan, as well as to the Ningbo Petrochemical Economic and Technological Development Zone in Ningbo.
Ineos Styrolution leveraged its Asia Pacific supply chain to collect and donate face masks for use in China.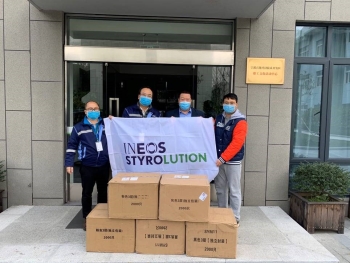 Copper-infused compounds kill bacteria
Carefully formulated plastic compounds also are helping the cause. Tennessee-based Techmer PM LLC has been working for years with supplier Cupron, which uses a patented process to produce oxidized copper that, when compounded with different types of resins, yields a material that can kill bacteria.
Techmer blends the copper with polymers such as polypropylene, polyester and nylon and supplies it in pellet or flake form to firms such as Virginia-based EOS Surfaces, which press-molds it to make solid surface countertops and tables that have been proven to dramatically reduce the incidence of hospital-acquired infections (HAIs), such as staph infections. Cupron is now testing the additive, which also can be impregnated in fabrics (such as bed linens, hospital gowns or face masks) to confirm its effectiveness against the Covid-19 virus.
Techmer PM uses Cupron's copper additives to make compounds that EOS Surfaces uses to make these bacteria-killing countertops.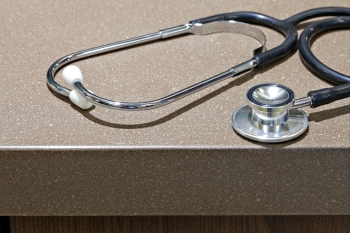 Others have long been incorporating antimicrobial additives into plastic compounds to reduce the transmission of various diseases.

Plastic packaging protects food
Plastic packaging is vital for protecting our food and keeping it fresh, which reduces contamination and waste. And, of course, blister packs, pouches, bottles and other types of plastic-based packages enable the efficient distribution and dosing of vital pharmaceutical products.
It surely is true that sustainability-related challenges remain as regards plastics waste, and the resultant issue of ocean plastics, but there can be no denying the good that plastics plays every day, but particularly now during the current pandemic crisis.
See more solutions at CHINAPLAS 2020
You can learn more about these important applications, and many fast-advancing materials and equipment technologies that are enabling these life-saving applications, at CHINAPLAS 2020. This 34th edition of the show will take place August 3-6, 2020, at the National Exhibition and Convention Center in Shanghai, after having been postponed from its original dates of April 21-24 because of the coronavirus.
We hope to see you there. Register or learn more at www.ChinaplasOnline.com.