Filtec specializes in customized polymers cutting systems and at the time of CoVid it has staunchly provided its customers with an efficient and prompt service
Founded in 1993 Filtec is an Italian company specialized in the creation of customized polymers cutting systems. Filtec is widely known for the Water Ring and the Underwater pelletizers. With these systems it is possible to cut every kind of polymer, even the most critical ones.
The Water Ring Pelletizer GRO type allows a safe and easy pelletizing process for a wide range of polymers such as LDPE, LLDPE, HDPE, PP, EVA, PS, SAN, ABS, SB, PMMA, TPR, TPU, PC, TR, PVC and Polycarbonate from 20 to more than 3,000 Kg/h. The best performances are there when these materials have low fluidity index or are filled with inert minerals, pigments, or others.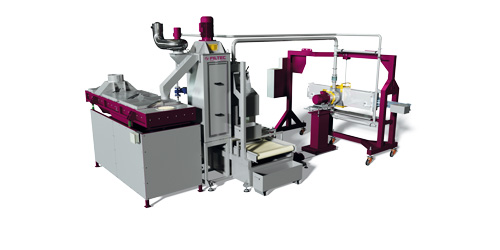 The Underwater Pelletizer UW type is a versatile machine, good also for high-fluidity polymers. This system is ideal for micro-pellets production and it allows to obtain a homogeneous product without agglomerates. In addition to the above-mentioned materials pelletized by the WRP (Water Ring Pelletizer) GRO type, the Underwater Pelletizers UW type can also easily pelletize compound based on PBT, PB1, PET, TPR, TPU, SBS, SEBS, PA6 and 6.6 from 30 to more than 5,000 kg/h.
Filtec products range also includes water filters, screen changers, vertical and horizontal centrifuges and vented vibrating screens.
To learn more about this company products and services, visit the website www.filtec.it
Filtec at the time of Coronavirus
Filtec is based in Badia Polesine, in Northern Italy, a place characterized by flourishing industry and historically devoted to work.
Over the last months, Filtec has been facing great challenges: everywhere COVID-19 has had a big impact. Mindful of its abilities and responsibilities, this company has worked hard to provide an efficient and prompt service to its customers.
During these months Filtec faced with the proof that a problem can be a good opportunity, opening new way to proceed. This company, even if of limited dimensions, never stopped working from home. Despite the situation Filtec has improved its internal procedures with new instruments and management software. Indeed, the company has adopted an integrated CRM, useful for a better organisation of both sales and purchasing. The technical department has acquired a new PDM, that connects the product code to the relevant experience in the creation of 3D design.
In this particular time of Coronavirus, Filtec has never forgotten the worldwide cause related to plastics recycling and circular economy. The current hygiene conditions show that more single-use plastics are required. As result, plastic waste is increasing and this company believes that in order to move towards a circular economy more plastic waste needs to be recovered and reused. A very common method, increasingly used, is the mechanical recycling, that refers to those operations that aim to recover plastics waste via mechanical processes. Through mechanical recycling, it is possible to process the plastics waste into secondary raw materials or products without significantly changing the chemical structure of the material. Part of Filtec business is indeed represented by the creation and production of machines involved in recycling processes.
In order to actively promote the importance of plastics recycling, Filtec together with 3 Italian companies, has decided to create the project "Are You R" ( www.areyour.org/en ). The letter R stands for recycle, reuse, reduce and all those words related to world of plastic recycling. Indeed, this programme aims to increase public awareness of the environment and the knowledge of the benefits associated to the recycling of plastic materials.
By talking every day about the re-use of materials from multiple perspectives, Are You R has become a reference point for tens of thousands of people that every day exchange views with a common denominator: the willingness to play an active role in environmental sustainability.
Filtec recycles and you? Make your right choice.