SIRMAX GROUP confirm investments in sustainability: new circular and bio compounds enters in the products portfolio
Speed and flexibility in meeting customer needs as well as a strong commitment to sustainability are distinctive features of Sirmax, a company that is rapidly gaining market share thanks to investments in new products and processes.
The company, headquartered in Cittadella (Padua), is a global leader in plastic compounding for applications in automotive, home appliances, power tools, electrical and electronics, building and construction, furniture. 
The group, with a turnover of 300 million euros, has 700 employees in 13 plants worldwide (Italy, Poland, Brazil, India and the United States). 
Among its customers, there are important brands such as Whirlpool, Bosch-Siemens, Electrolux, Kärcher, Philips, De Longhi, Honeywell, ABB, Technogym, Stellantis, Volkswagen Group and Daimler.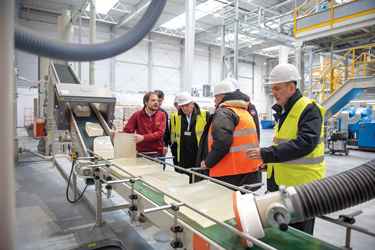 Despite the pandemic affected the industry as rarely seen before, the company has confirmed investments in the circular economy focusing on the increase of production capacity in EU and US, the development of new products such as new grades of bio-compound / post-consumer polymers and new molding techniques.
"The circular economy is growing fast – Sirmax Group's president and CEO Massimo Pavin explains – and we think that being sustainable is no longer a choice, it is a duty. For this reason, combining our business objectives with a sustainable development model is a fundamental part of Sirmax group's mission. Today, Sirmax applies sustainability principles throughout the value chain: in partnerships with suppliers, in the manufacturing of sustainable products, in the development of new moulding techniques and processing". 
These investments have contributed to the results of Sirmax in 2020 marked by a robust volume growth compared to previous year (+5%).
With regard to the green portfolio, the consolidation of Sirmax in the Thermoplastic Elastomers (TPE) business is also remarkable. TPE in fact, naturally green because 100% recyclable, are a viable and sustainable alternative to the vulcanized rubber in the realization of flexible/elastic high-performing items for many applications. 
Following the opening of the polish Factory in Kutno in 2019, dedicated to the Xelter® (a wide range of thermoplastic elastomers) and Xelter green® from post-industrial waste, all product families are now perfectly industrialized.
As regards of Xelter® Bio, a "hybrid" TPE TPZ-(SEBS+Bio-TPU) that offers some bio-based grades Xelter® TPE division's commercial director Stefano Capurro states: "Xelter® Bio is an excellent product that could be used either as a component overmoulded on engineering plastics or where a resistance to scratches and usage superior to standards TPS-(SEBS) is required. The significant investment in production lines and laboratories' tools allows us to develop specific high-performing grades and product families, to meet the increasingly stringent demands of a rapidly-evolving market". The TPE business unit of Sirmax is also working on rubber replacement with more sustainable alternatives and the R&D is already developing highly customized solutions.