FIMIC knows all about recycling processes and what is really needed for efficient plastics recycling as part of a circular economy
For a long time, our economy has been dominated by a linear approach under which raw materials are manufactured, processed, used once, and thrown away. But the future calls for a circular economy in which we reuse our products and recycle them efficiently at the end of their life. And that holds true for plastic as well. This is not a new topic, but it is one that has been gaining ground in recent years.
While we recognize and appreciate the numerous applications and long-life cycle that plastics delivers, it is precisely these properties that sometimes generate challenges when recycling. Due to the experience and knowledge gained over 25 years in the plastic recycling market, FIMIC knows all about recycling processes and what is really needed for efficient plastics recycling as part of a circular economy. With this knowledge and a clear vision of its mission worldwide: the protection of the environment through the proper recycling of plastic and its optimal reuse, FIMIC orient its strategy towards continuous improvement with the aim of achieving high levels of technological competence, customer satisfaction, social and environmental responsibility.
As companies in this sector, FIMIC also has the duty of giving advice to its customers and in this period, also to those who want to enter this world, with little experience in the sector. Recycling needs us, there are no books but only experience in the field.
Based on its experience and based on the material to be processed, FIMIC does not recommend the same filter based on just the type of material.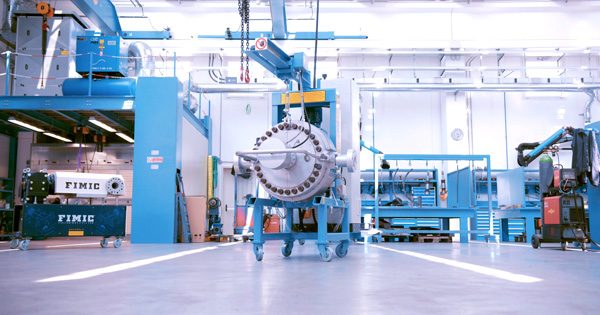 FIMIC historic RAS melt filter has reached the serial number 430. Versatile melt filter, sold all over the world, allows you to handle the dirtiest materials on the market. To give some indications FIMIC has come to remove 15% of paper, but obviously if we are talking about more aggressive contaminants, the percentage is drastically reduced. In the case of metals or soil for example, it is reduced to 1% in order to work safely, with little risk of breakage or wear.
In fact, FIMIC's customers generally use 1 to 2 lasers per month, but those customers who decide to use the melt filter to eliminate very high percentages of contamination, due to a poorly performing or non-existent washing, pay obviously much more for the filter maintenance. And the waste increases. In fact, the percentage of plastic waste generally is around 1%, but if we increase the contamination, the waste can also increase proportionally.
RAS does not need prefilters and reaches up to 2 tons of LDPE or HDPE with a single laser or punched screen, (different according to the filtration needed).
In the event of an increase in hourly production, the GEM takes over, to reach up to 3 tons of LDPE or HDPE, obviously based on MFI or filtration.
In this case we are talking about a TWIN filter, as we increase the filtering surface of the RAS 700 (almost 4 thousand cm2) with only two screens by 35%. GEM 600 in fact has 5500 cm2 with only two screens.
In the case of very high and probably aggressive contaminations, there is also the possibility of installing the ERA, a melt filter with two filtration chambers.
This allows to avoid having two filters in the same line, because ERA filters twice with in a single screen changer.
RAS, GEM and ERA are therefore suggested for materials defined as post-consumer, while if we wanted to talk about post-industrial material, in this case, FIMIC has recently completed the development of a filter suitable for an automatic but very fine and delicate filtration. The TEN in fact uses the mesh belt, which as everyone knows, is perfect for the filtration of low contaminated materials (max 1%) and small in size. The TEN has been recently installed in Italy and like many meshes, a manual protection filter was recommended to the customer to avoid excessive consumption of the mesh for contaminations exceeding a millimeter.
To complete the product range, in 2021 FIMIC also launched a new product, SPA. A pump dedicated to the world of recycling, as it avoids gears and use a single screw.
In this way FIMIC avoids a protective prefilter and will achieve extremely low maintenance costs.
SPA will be installed this year in Japan and Saudi Arabia on two twin-screw extruders, and it will obviously be FIMIC's responsibility to inform you about the results immediately afterwards.
All this is FIMIC, 65 melt filters sold in 2021, 45 people dedicated to the world of recycling to improve the quality of plastic as a real value for the future.